Prepare to teach young children
This online program qualifies you to teach children ages birth to 5 in special education settings or children ages birth to 8 in regular education settings. Gain the skills you need to teach within infant toddler programs, 0-3 sixpence programs, early intervention, early Head Start, Head Start, preschools (public or private), early childhood special education, and K-3 classrooms. Through a combination of online courses and a supervised school-based field experience in partnership with Nebraska schools, you will be equipped for student teaching and a career in early childhood education.
Benefits of a Bachelor's Degree
Completing a bachelor's degree qualifies you for additional job positions and careers. The median salary for those with bachelor's degrees is 39% higher than for those with a high school diploma (no college experience) and 34% higher for those with some college but no degree, according to the Bureau of Labor Statistics.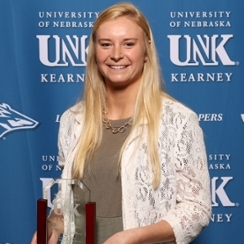 As an undergrad, Kristen's devotion to children and service was evident as she was a member of the Council on Family Relations and Operation Christmas Child, and served as a volunteer at the Kearney Area Animal Shelter and for the Service Learning Project in the Kearney area. Kristen says the instructors are a strength of UNK as they expect nothing less than your best and push each student to reach their fullest potential. This definitely made a difference in her life and pushed her to strive for her best in all that she does.
Kristen Karlberg
Family Studies
Curriculum
A review of your transcripts will examine the courses you may have already completed toward the ECI degree program. Credit hours from the following courses are included in General Studies: TE 100GS, MATH 104, MATH 230GS, and MATH 330GS. Choose either the Birth Through Kindergarten Specialization or the Age 3 to Grade 3 Specialization.
30 General Studies credits are required in addition to the following: