Ex-Officio Student Advisory Council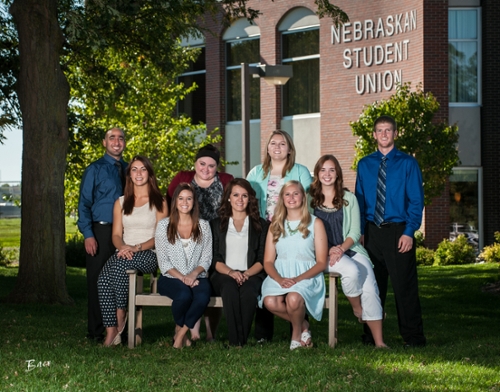 The 2014 Ex-Officio Student Advisory Council
Back Row (left to right): Abdulwahab Akbar, Michelle Ostmann, Chloe Johnson, Miranda Nuemann, Riley Arnold, Logan Krueger
Front Row (left to right): Connor Schulte, Berenice Almanzea, Haley Gunnink 
Ex-Officio offers an exceptional opportunity for leaders of key constituent student groups to provide counsel to Dr. Gilbert Hinga. Students serving on Ex-Officio provide direct advice and feedback to the Division of Student Affairs on the campus administration concerning student services at the University of Nebraska – Kearney.

Constituent student groups on Ex-Officio:
Antelope Student Newspaper
Collegians for Integration and Accessibility
Honors Student Association
Interfraternity Council
International Student Organization
Loper Programming and Activities Council
Multicultural Affairs
Multicultural Greek Council
Panhellenic Council
Queer Straight Alliance
Residence Hall Association
Student Athlete Advisory Council
Blue Gold Brigade (BGBG)
Student Government
UNK Marching Band
Ex-Officio meets the first Thursday of every month during the fall and spring semesters.