Costs
Expenses, Tuition and Total Costs 9 Month Budget (in U.S. Dollars)
| | |
| --- | --- |
| Tuition and Fees | $14,467.74 |
| Room and Board | $8,998.00 |
| Total* | $23,465.74 |
| Estimated room and board cost for 3 months of summer | $4,240.00 |
All international students must prove the minimum financial support of $23,465.74.
---
For more information including explanation of fees, go to Tuition Information page. The costs that apply to international students are non-resident tuition/fees. You must also pay international student fees, health fees, and health insurance.
UNK does not accept wire transfers from individual students or parents.There are two options available for payment of tuition and fees:
The student can open a bank account upon their arrival in Kearney (We work closely with the bank to assist with this process). Once the student has a bank account, parents can wire transfer money to the account. The student can then pay their bill online using an electronic check.
The student or parent can pay the tuition and fees bill online using a credit card. VISA, Mastercard, American Express or Discover cards are accepted. A 2.75% fee will be charged.
Students or parents can view instructions for paying the student bill online by either electronic check or credit card at http://www.unk.edu/offices/student_accounts/Payment_Options/.
The amounts provided in this website are subject to change
---
Location and Office Hours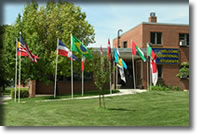 Welch Hall
2504 19th Avenue
Kearney, NE 68849-5221
Office open: 8 am - 5 pm
Phone Hours: 8 am - 5 pm
Walk-in Advising hours: 8 am - 4:30 pm
Telephone:(308) 865-8953 Fax: (308) 865-8160