Commencement
Spring 2015 Commencement Ceremony: May 8, 2015, 10 a.m. Central Time, Health and Sports Center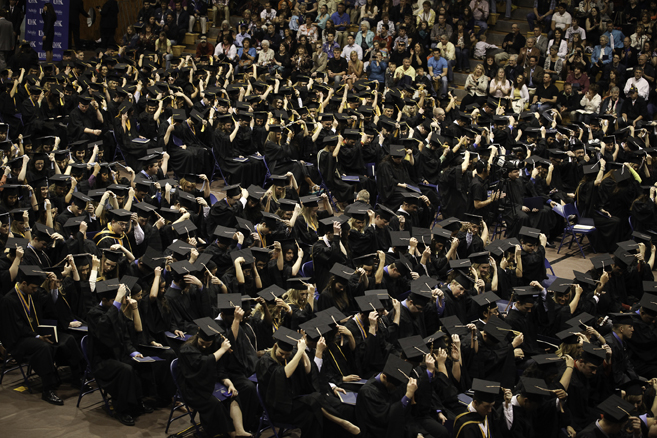 Line-up for graduates marching begins at 9:15 a.m. in the Cushing Coliseum Fieldhouse. The Processional will start at 9:50 a.m. sharp. Ceremony begins at 10 a.m. and will last one and a half to two hours. 
If you have questions, please first consult the
Graduation Information Headquarters
. If you are unable to find answers to your questions about Graduation there, call UNK Communications and Community Relations at 308-865-8455.
Rehearsal:

Rehearsal for Spring 2015 Commencement is 3 p.m. Thursday, May 7 in Health and Sports Arena. Rehearsal will go over seating, processing, walking to the stage and returning to your seat. It is useful and required if you want to participate in the commencement ceremony.
Deadlines and More Information:
Graduation deadlines, fees and application procedures are on the Graduation Information page. Reserved and Special Needs seating information is also available. 
If you are a family member planning to attend the ceremony, visit the  Maps and Directions page for directions to our campus and a layout of the buildings when you arrive. There is a campus parking map specifically for Commencement Parking.
Webcast:  
For those unable to attend in person, UNK commencement ceremonies are webcast live over the internet. To view the broadcast visit the Webcast Information page before the event to make sure your computer is properly configured. If you have Information Technology questions on how to view UNK Webcasts, please call the helpdesk at 308-865-8363. 
To listen to addresses by previous commencement speakers, visit the UNK YouTube channel. After the commencement exercises are complete, a recorded video will be available soon after at the YouTube channel.
Accommodations for Graduation Parking: 
Lot 10 between Cushing Coliseum and Otto Olsen is reserved for handicap parking. A valid handicap parking permit is required to park in this lot. Vehicles without a handicap parking permit who have someone who has a restriction may go into to this lot to drop their passengers off by the east door to the Health and Sports Center but will be required to leave the lot and find parking in another area. A commencement parking map is available at unk.edu/commencement_parking.
Seating for mobility-restricted guests:  
Seating for individuals who use wheelchairs is available in the northeast and southeast corners on the concourse level. Additional seating is available on the lower level in the southwest corner. One other person will be allowed to sit with each individual who uses a wheelchair. Individuals who don't use wheelchairs but have restrictions that prevent climbing stairs may use the elevator located on the northeast corner of the building to get to the lower floor and may sit on the first row of the bleachers. Another option is to take one step down from the concourse level. Since these seats are not reserved, you should allow plenty of time before the graduation ceremony to obtain these seats. There will be hosts and hostesses at the entrances of the building to assist individuals as needed.