A Community To Call Home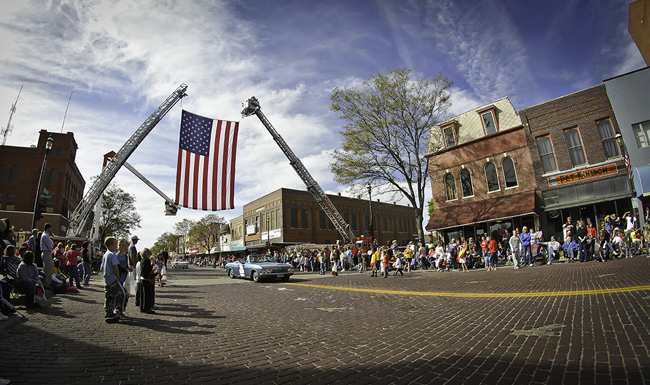 UNK is in the middle of Kearney, Nebraska; a vibrant, progressive and growing community of over 30,000 people and the kind of city that visitors are often tempted to settle down in, for life. Kearney often makes national "top places to live" listings for numerous reasons, but it all comes down to this:
Kearney offers a great quality of life. 
A city that extends UNK's friendly, supportive, and collaborative way of life beyond its campus walls, Kearney is small, yet continually growing; modern, yet tenacious about preserving its distinctive history and traditions, pioneering heritage, and old-world charm.
Kearney's bustling economy co-exists with the enviable quality of life that results from safe and quality housing, excellent schools, medical care and other government services, a multitude of recreational and cultural opportunities, and safe, progressive neighborhoods. The unemployment rate it Kearney remains, constantly, near the lowest in the nation, meaning jobs for students and partners of new employees are easy to find.
A world of opportunities
Kearney also offers students a wide variety of opportunities — ranging from internship and employment opportunities, working and studying with hundreds of international students from 50 countries, to recreational activities and facilities of all kinds. Kearney's alignment along the Platte River provides a picturesque backdrop where annually the world watches the Sandhill crane migration, which is a spectacle that all should observe. Kearney's historic downtown on brick-paved streets, and its bike trails, parks, golf courses, event center and other entertainment and recreational opportunities bring families and people of all ages to events and activities every day, or to special community events such as Cruise Nite.
And with its location in America's heartland and in the geographical center of the nation, Kearney is a 4 ½ -hour drive to Denver to the west, 5-hour drive to Kansas City to the southeast and 2 ½ hours to Omaha to the east. Kearney's airport offers flights nearly daily to Denver.
Explore Kearney further or arrange a campus visit to UNK. Learn more about why the city of Kearney and UNK complement each other so well.
Links to community organizations and regional resources:
Kearney Area Chamber of Commerce
Kearney Visitor's Bureau
Buffalo County Government
Buffalo County Economic Develop
City of Kearney
Kearney Public Schools
Kearney Regional Airport
Nebraska Rural Living