Five Ways to Celebrate Your Virtual Graduation
Posted: May 7, 2020 10:00:00 AM CDT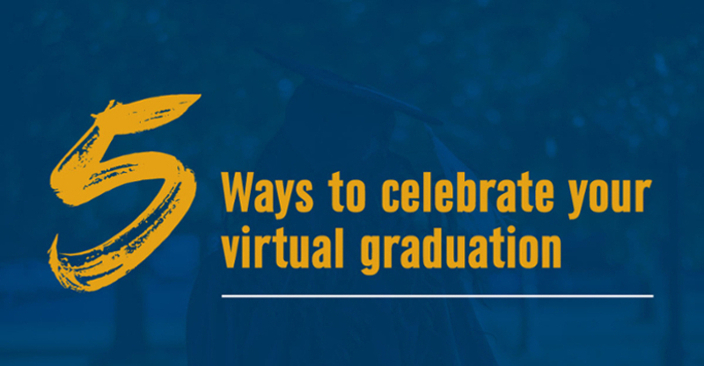 Class of Spring 2020, you are making history. You bravely transitioned into a remote learning environment and threw your plans for a "normal" last semester of college out the window. If you completed your degree in a solely online format, you extended extra doses of kindness and patience to peers, faculty, and staff members who were navigating a new educational reality. Now, as your final semester comes to an end in an unexpected way, you may feel as if your accomplishment is a little less significant and special.
Graduates, I'm here to remind you just how precious this moment is. You did it, you earned the degree that you spent countless hours pursuing. Even though you can't mark this occasion in the conventional way, it's time to celebrate YOU.  
Here are five ways to celebrate your virtual graduation:
Embrace the virtual experience by viewing UNK's May 2020 graduation video. Share the link with family and friends, enjoy a celebratory meal, or hang out in your pajamas on the couch while you watch! More information about the video will become available as commencement day arrives. Until then, you can view the digital commencement program on the UNK Commencement Page.


Connect with classmates by setting up a happy hour via Zoom. Or, share your favorite college memories on social media and tag your fellow Lopers! Don't forget to add #LoperGrad to your posts.


Take graduation photos. Throw on your cap and gown or your favorite UNK t-shirt and smile for the camera! To add a personalized touch, create a stack of your textbooks to stand next to or include an item that symbolizes your future career.


Express gratitude to family, friends, peers, or UNK faculty and staff by writing letters or e-mails of appreciation. Making others feel valued is not only a positive gesture, but it can also cultivate your inner happiness.


Plan your next move by beginning your job search online or updating your references for future job applications. Visit UNK's Academic Advising and Career Development page if you are looking for helpful tips and resources. If you are interested in advancing your education, now is a great time to consider your options. UNK offers over 50 online program options, making it possible to find a flexible online program that will meet your personal and professional needs and interests.
Class of Spring 2020: Find a monumental way to commemorate your success. You deserve it.
For more information on UNK's online program options, visit ecampus.unk.edu or contact us at ecampus@unk.edu or 1.800.865.6388.