Transforming Lives as a Librarian
Posted: April 23, 2020 9:00:00 AM CDT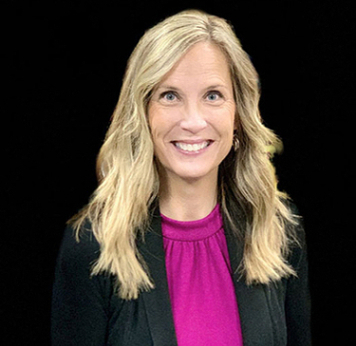 Stephanie Dannehl discovered a love for reading at a young age, thanks in part to her local librarian. Dannehl was always met with a "warm smile and a big hug" when she entered the library, and HoneyLou Bonar (Hastings Public Library librarian) recommended books from an assortment of genres and authors that expanded Dannehl's literary repertoire. "She had a way of making the library a very cool place to be and I wanted to be just like her," recalls Dannehl.
Dannehl always had a desire to become an educator, but it wasn't until later in her career that she seriously considered becoming a librarian. With six years of experience as Bertrand Community School's School Librarian and Tech Integration Specialist, she has transformed her passion for reading into an inspirational career. A graduate of UNK's online Instructional Technology: School Librarian program, Dannehl links reading and technology to create interactive and engaging learning experiences for her school and community.
"I loved my online experience at UNK. Every class I took provided me with a toolbox of ideas that I could use right away in the library," said Dannehl. "Dr. Crow taught the majority of my courses and she was AMAZING! She was a great resource to me, even after I graduated."
The "toolbox of ideas" that Dannehl became equipped with at UNK has empowered her to create one-of-a-kind experiences. Teachers and students alike can make use of the tech tools that are available within her school's mobile makerspace area. STEAM-based educational tools, such as Sphero and other robots, are used to teach coding and problem solving and students can build their own tablets or computers.
Education extends after the traditional school hours, with clubs that give students the chance to learn how to create and design in 3D. "We use the Microsoft HoloLens to view their 3D creations. We can turn the students' designs into holograms and interact with them. We can make them full size, walk around [and inside of] them and view them at any angle," Dannehl said.
Dannehl utilizes social media as a tool to connect her school to her community. She shares tips and tricks related to technology and provides "insight on current trends and apps" that parents may find their children using. "The stakeholders can see firsthand what students are learning and the impact it is making," she said.  
With Dannehl's leadership, instilling a love for reading has also become a community affair. "I invite community members to be guest readers to K-3 students. They read the Golden Sower nominees and the students ask them questions about books they like to read."
On December 10, Dannehl was named one of ten nationwide recipients of the American Library Association's prestigious  "I Love My Librarian Award" – the first Nebraska librarian to be honored. The award shines a light on the profound impact that she has made not only in the lives of her students, but in the lives of their families, teachers within her school, and members of her community.
Accolades aside, Dannehl finds the most gratification in bringing the ideas of teachers and students to life.
"We turn the 'What ifs' to 'We did it' because of perseverance and problem-solving," Dannehl said. "We are preparing the students for the future [through] learning and engaging with emerging technologies."
UNK offers over 30 online master's degrees that are designed to strengthen the impact of educators. To view a complete list of online program options, visit UNK Online.