Beta Alpha Psi Opens Doors for UNK Accounting Students
Posted: September 19, 2023 12:00:00 AM CDT
For Dr. Sarah Borchers, her love of accounting extends beyond the classroom. As an undergraduate student, she was actively involved in an accounting society. Once she entered graduate school, this society received accreditation and became Beta Alpha Psi. She understands how "beneficial to (her) own career" the networking aspect of belonging to this honorary organization was for her and is grateful for the chance to pass along the same opportunity to her own financial students.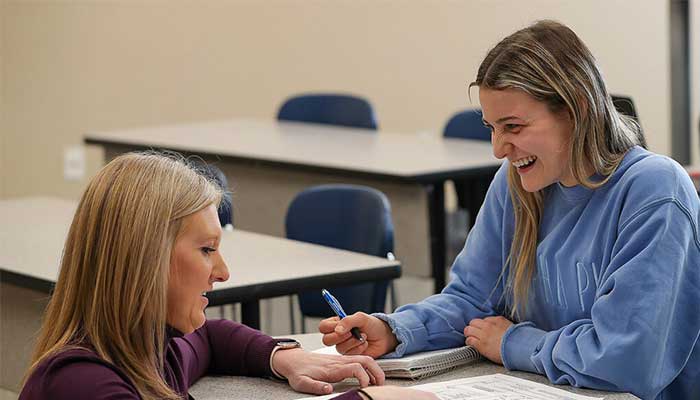 In 2015, the year Dr. Borchers became an assistant professor of accounting at the University of Nebraska at Kearney's College of Business and Technology, she also became the faculty advisor for Beta Alpha Psi.
Located in West Center, Beta Alpha Psi extends its meetings beyond the classroom walls. The meetings are, according to Dr. Borchers, "very open" to anyone who wishes to attend although most students are involved in accounting, finance, economics, and data analytics. Accounting students can find out more information about Beta Alpha Psi simply by checking their inboxes as Dr. Borchers frequently shares information via email. Anyone can reach out to her at any time to find out more about how to get involved in this club.
Although students will be eligible to participate in the end-of-the-year induction ceremony based on their participation throughout the school year, attending the meetings is good exposure for everyone. Students "plan the meetings" and "conduct the meetings" which ensures members get what they need. The idea is for these students to learn about opportunities that are available to them after graduation by giving them chances to network effectively now.
Guest speakers, many of whom are part of local accounting firms, are often invited to speak at the meetings. Dr. Borchers wants to make sure her students have a chance to network, something she knows is "good exposure for them" while also giving them a chance to practice the skill set, they are gaining in the classroom. Ultimately, she desires to offer Beta Alpha Psi members the opportunity to learn about all that's waiting out there for them in the world of accounting.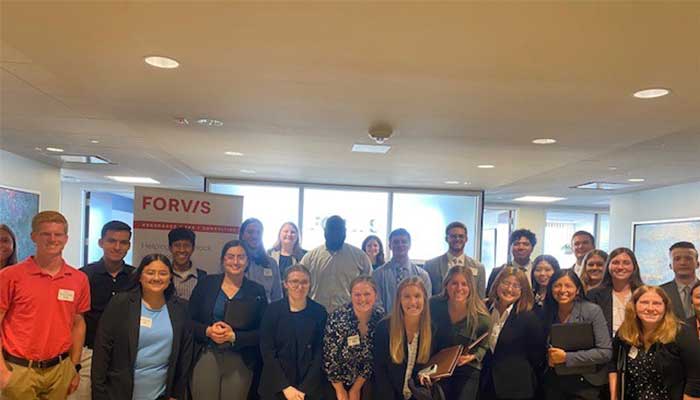 Each fall semester, Beta Alpha Psi has a kickoff meeting where they provide pizza for students along with the chance to learn more about this prestigious honorary organization. There is also a yearly event held on campus that Dr. Borchers describes as "almost like speed dating" where 10-15 firms visit campus. Students are given time to visit each table where there are representatives from each of the firms to learn more about future employment opportunities. This type of networking with employers can lead to internships and even jobs after graduation.
There are also off-campus activities such as the "big bus trip" where dozens of students travel to Lincoln and Omaha to visit accounting firms before attending a networking event at the University of Nebraska at Lincoln. This activity, like others facilitated by Dr. Borchers, is designed to give students a chance to practice what they are learning in class while networking.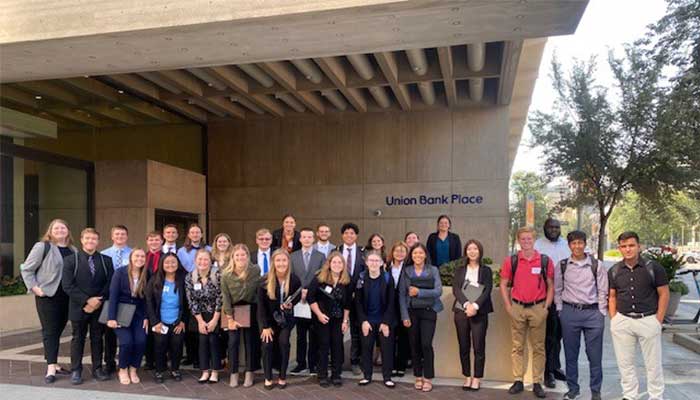 This reputable organization can open doors for its members as it is nationally known for its excellence. In fact, one of Beta Alpha Psi's founding members, Dr. Matt Bjornsen, is currently an accounting professor at the College of Business and Technology at UNK. This club, which is "very accounting-focused," needs to be on the radar of all accounting students at UNK. The induction ceremony at the end of the year also includes the possibility of becoming a Beta Alpha Psi officer.
If you would like more information about this club, you can reach out to Dr. Borchers at borcherssj@unk.edu. You can also follow Beta Alpha Psi on their Facebook page. More can be learned about the UNK chapter by visiting their campus webpage. This club, which focuses on academic and professional excellence, provides a great opportunity for students to learn more about their future professions, network with like-minded people, and give back to their community.