UNK Higher Education Student Affairs M.S.Ed. international student Jennifer Bucci is living as a verb
Posted: April 27, 2023 10:00:00 AM CDT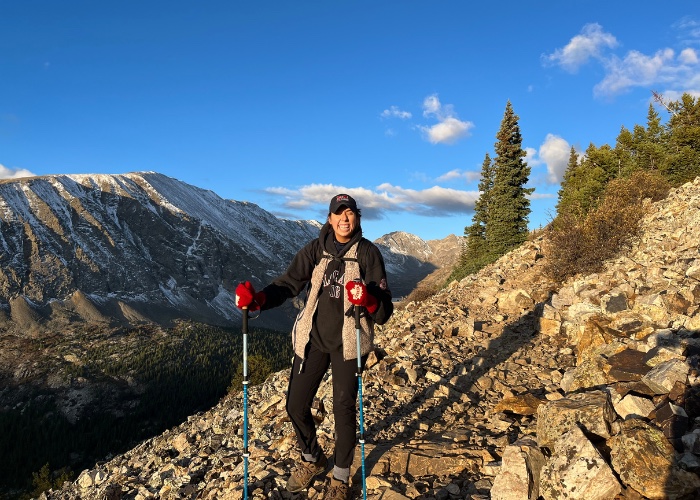 "Oscar Wilde said that if you know what you want to be, then you inevitably become it – that is your punishment, but if you never know, then you can be anything. There is a truth to that. We are not nouns, we are verbs. I am not a thing – an actor, a writer – I am a person who does things – I write, I act – and I never know what I am going to do next. I think you can be imprisoned if you think of yourself as a noun," Stephen Fry, English actor, director and writer. 
"I just think that's the most beautiful thing ever," Jennifer Bucci said about Fry's quote. "I'm living life as what I'm doing, like being a verb, not necessarily being a noun and limiting myself to a specific thing." 
Bucci, a University of Nebraska at Kearney international student from Toronto, Ontario, Canada will graduate this May from the online Higher Education Student Affairs M.S.Ed. program. This will be Bucci's second master's degree from the U.S. and she has no plans to stop living her life as a verb.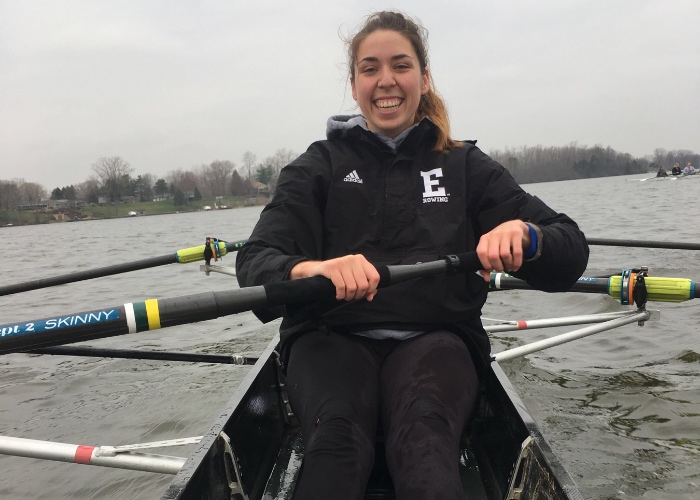 Row (verb): to propel a boat by means of oars. 
"It's definitely been quite the journey," Bucci said. "I grew up playing baseball with the boys my whole life. I switched in about grade 11 to play softball and try to get recruited to come down to the states." 
Then the call came from Eastern Michigan, but not for softball, for competitive rowing.  
"I didn't even know how to swim at the time," Bucci recalled. "I thought it was a joke. I spoke to the coaches quite a few times and I went down for an official visit. They offered me the most money, so I thought, why not? One thing led to another, and I was there for six years." 
Bucci had never participated in the sport prior to her collegiate career, which is common practice in recruiting collegiate level rowing teams. Six years later, two undergraduate degrees in psychology and public relations, a master's degree in human resources, one overturned boat, and lots of memories later, Bucci still doesn't know how to swim.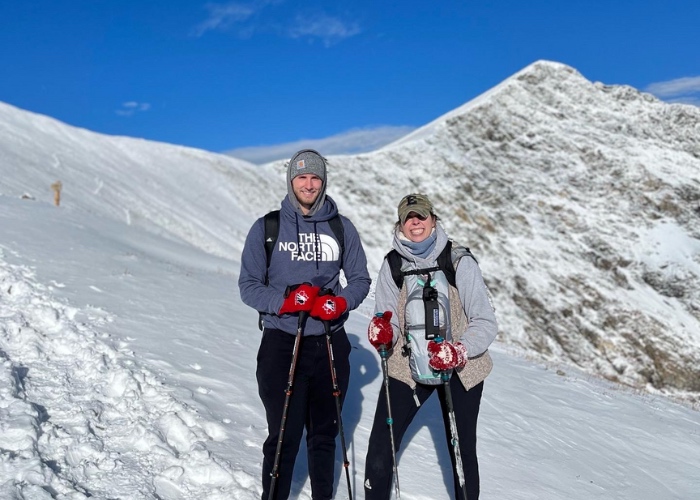 Travel (verb): to go on or as if on a trip or tour. 
Although Bucci was an international student, she only lived about 200 miles from her home city while attending Eastern Michigan. Her decision to move to Nebraska added an additional 880 miles between her and her family. 
Bucci decided to attend UNK after working for Eastern Michigan's campus recreation center for four years. During this time, she developed a passion for campus recreation and working with college students. 
"I applied for honestly any campus recreation graduate assistant job I saw online," Bucci admitted with a laugh. "After several interviews, I really connected with Andrew Winscot, the assistant director at UNK Campus Rec. That combined with knowing the emphasis that Andrew put on student development was huge." 
Bucci packed her things into a U-Haul and made the 13-plus hour drive to Kearney, Nebraska. As her destination approached, she found herself feeling isolated by the many miles of fields and livestock.  
"I've never lived in any place like Nebraska before," Bucci said. "I've obviously driven past farms and cornfields and cows, but I never actually saw a cow close-up until I moved here, which is super cool. I never heard a cow moo until I moved here. I've had the coolest experiences outside my comfort zone."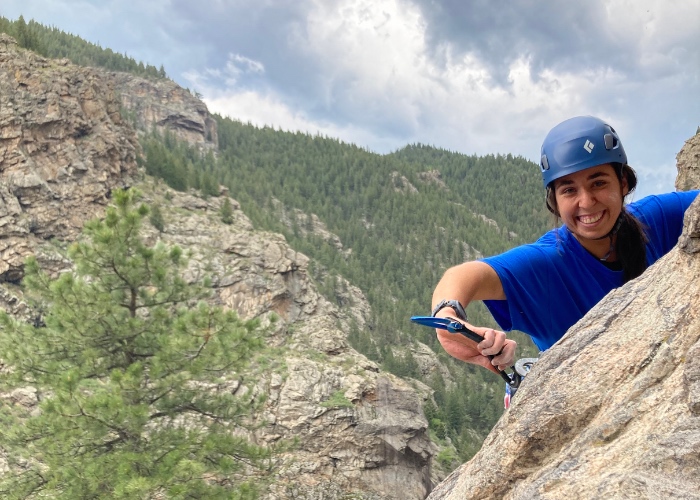 Adventure (verb): engaging in hazardous and exciting activity, especially the exploration of unknown territory.  
"The past couple of years in Nebraska have been life changing and I'm definitely living out all those adventures I've wanted to. Someone compared me to a kid in a candy shop," Bucci said. 
Bucci has grasped every adventurous opportunity provided during her two years here at UNK. Through UNK's Campus Rec she has co-led a backpacking trip through the Appalachian Trail in Georgia and began rock climbing, facing her massive fear of heights head-on. In fact, if you could see Bucci's mirror at home it would read, "Practice volunteer discomfort." 
"I think that's so important and that is honestly the reason why I climb," Bucci said. "A lot of people ask me if I like climbing and I wouldn't say I like it. I'm starting to a little bit more now, but I love that challenge it gives you. I think if you're not growing, you're dying. So, I really try to find ways to push myself and grow." 
Bucci also seeks adventure outside of campus recreational activities and has been to nearly 40 states in the U.S. She hopes to visit every state in the U.S. and every province and territory in Canada. 
"Most of the weekends I've just been jetting off trying to maximize my time," Bucci said. "I'm very aware of my finite time here, so I try to maximize everything that I have. Even when I walk to the Kearney Public Library, I am just looking at everything and trying to soak everything in because I know my time is limited. I think a lot of international students can probably relate to that. It's something that I wish more domestic students could sort of wrap their head around because everyone's time is finite. I think living in the moment is huge."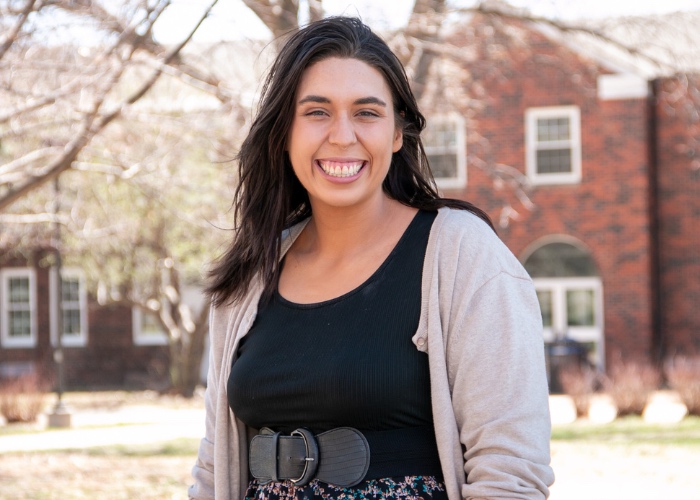 Appreciate (verb): to grasp the nature, worth, quality, or significance of. 
"'Nebraska Nice' is something I never heard of until I moved out here, but I believe it wholeheartedly," Bucci said. "I think the people I've met here have been some of the most genuine, down to earth, and kindhearted people I've ever met." 
Bucci has experienced Nebraska nice with her UNK professors, classmates, campus recreation staff, community members, and the other international students attending UNK.
"The international community here is amazing. I have really enjoyed getting to connect with people from all over the world," Bucci said. "In Michigan, we had a large international student body for sure, but here it just seems very close knit, which I've loved."
Bucci plans to head home to Toronto after her May graduation to spend some much-needed time with family but says leaving Kearney is "bittersweet."
"There's a lot to look forward to, but there's also a lot of endings," Bucci explained. "I'm trying to think of it more as see you laters and not goodbyes. I am pretty confident I'll find my way back here one way or another."