Kirsch sisters tackle grad school as student-athletes
Posted: September 12, 2022 12:00:00 AM CDT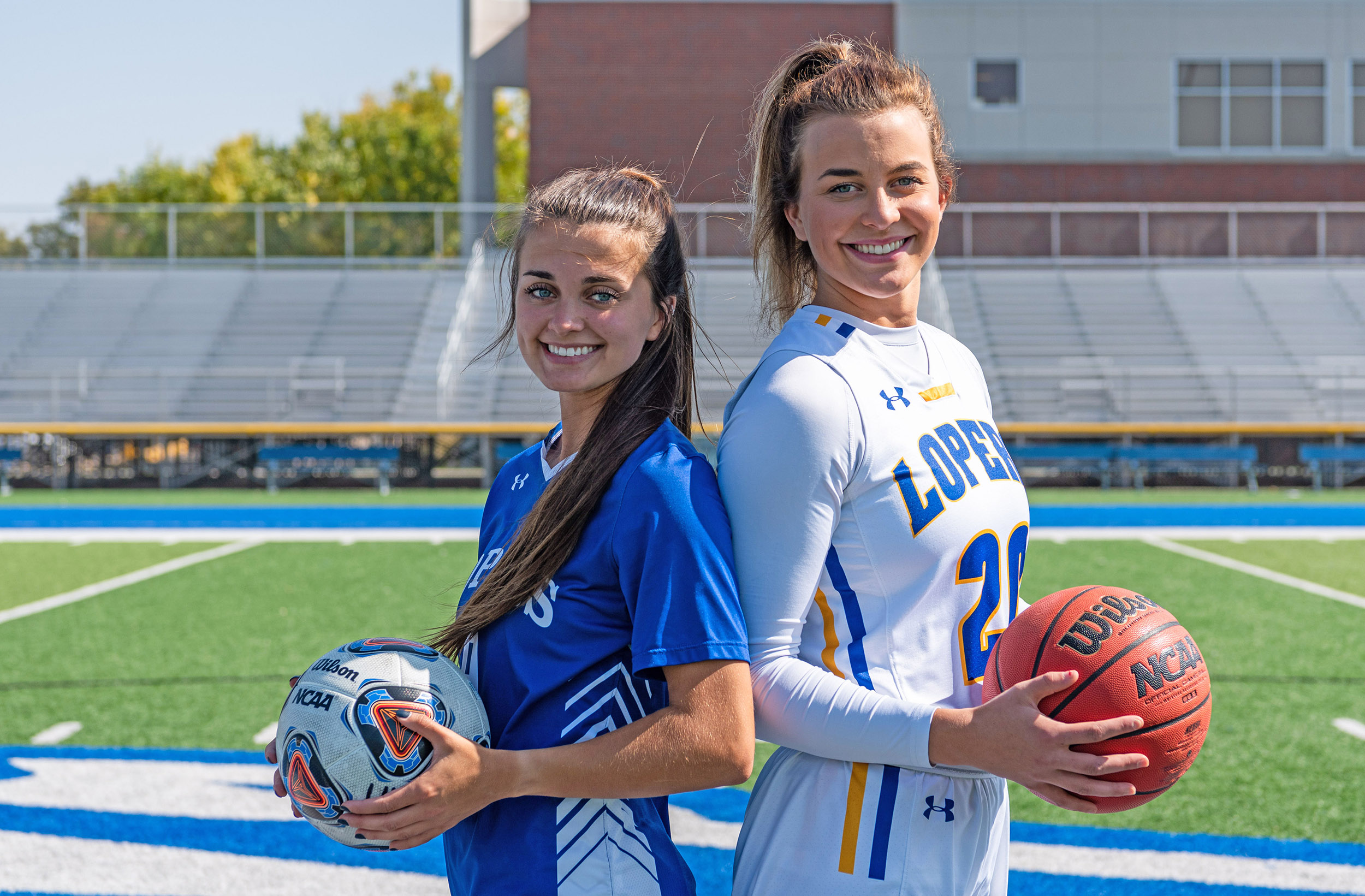 Whether a full-time or part-time graduate student, finding and creating balance in one's life can be a daunting task. From family obligations to occupational requirements and other responsibilities, most graduate students are busy, to say the least.  
But being a student-athlete adds yet another scale to balance in graduate student life. This is a framework Kassidy and Klaire Kirsch both know well.   
The sisters from Rapid City, South Dakota, pursued athletics at the collegiate level throughout their undergraduate careers. Kassidy played on the UNK women's soccer team for the seasons between 2018 and 2022. Klaire currently plays on the UNK women's basketball team and has since the 2018-2019 season.  
Due to the COVID-19 pandemic of 2020, both women were awarded the opportunity to compete for another year, and both accepted.  
However, sports in graduate school looked a little different from what the sisters had experienced in their undergraduate careers. One of the ways Kassidy found balance in all her responsibilities was through the guidance of faculty within the Communication Disorders (CDIS) Department.  
"Based on my undergrad experience, I knew that the CDIS faculty would support me in playing my last year of soccer, especially after losing the previous season to COVID," Kassidy said. "I met with Dr. Schneider-Cline and Mrs. Moody, and they walked me through possible options to help balance graduate school, working as a graduate assistant in Teacher Education, and playing soccer." 
Both women experienced tremendous amounts of support from their professors and coaches.  
"Thankfully, our coaches are beyond supportive of our academics and really emphasize that 'student' comes first in our title as 'student-athlete,'" Klaire said. "My coach was also understanding of the difference between undergrad and graduate school and knew that I would be putting more time into my academics."  
Through their support and her own discipline, Klaire was able to manage the demands of graduate course work and collegiate athletics.  
Kassidy experienced similar support in her endeavors.  
"My coaches were stoked for me to have the opportunity to do both [basketball and graduate school]," she said. "My professors have been incredibly helpful in making this a realistic situation for me. I am grateful for their thorough communication and genuine care…[for] me and my goals!" 
The Kirsch sisters' decisions to attend graduate school at UNK stemmed from meaningful undergraduate experiences and the support of faculty within their department and their coaches.  
"UNK has provided me with so many opportunities to…succeed," Kassidy said. "I was able to balance my academics and athletics throughout undergrad and some graduate school thanks to professors, coaches, and other faculty that supported me."  
 Klaire echoed her sister's admiration: "I'm telling ya, the people [at] UNK are special." 
Though not easy to be graduate students and student athletes, Kassidy and Klaire Kirsch have found that with the right support system anything is possible.  
"It is a daunting thought to be fully immersed in a competitive graduate program while also maintaining my strenuous obligations as an athlete," Klaire said. But having the support of those around her has helped in making it all manageable.  
Finding balance "definitely wasn't a walk in the park," according to Kassidy, "but it helped me further develop my time-management and prioritization skills."