Road Trippin the UNK Way
Posted: August 30, 2022 12:00:00 AM CDT
For University of Nebraska at Kearney students Ethan Krueger and Devin Stroh, hands-on learning is a normal part of their daily life within the Industrial Distribution program. This past April when their professor, Dr. Ben Brachle, took them on a road trip to the Material Handling Equipment Distributors Association (MHEDA) conference in Florida, they were able to get a glimpse at what makes UNK so special. As ID majors, a program that is part of the College of Business and Technology, they're accustomed to experiential learning opportunities. At this conference, Ethan and Devin saw firsthand how they will be able to use the skills they're learning at UNK when they enter their future professions.
Industrial Distribution students, like all CBT students at UNK, learn by doing. Through practical experiences that encourage critical thinking, Ethan and Devin have learned the importance of maintaining a growth mindset. They have been challenged to learn through their mistakes. The professors in the ID program create lessons to ensure that their students learn skills that mimic what they will need for their future careers.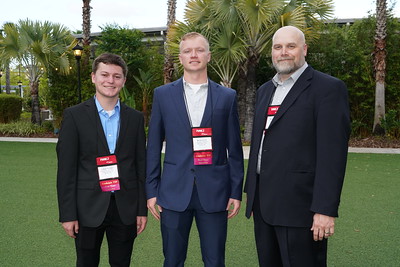 When discussing his ID classes, Ethan explains how "professors teach baseline knowledge of multiple different industries." On his recent road trip to the MHEDA conference, he was pleased to learn how "what (he) got taught last semester actually is a real-life application."
Devin shared how it was "easy to make connections" at this conference with 600 MHEDA members representing over 200 companies from around the world. He shared how "getting out of your own little bubble" was the key to benefitting from all this conference had to offer. He's grateful for this opportunity because he was able to learn about companies that he's now interested in for potential internships.
The MHEDA conference, an opportunity available to UNK in addition to a few select universities such as Texas A&M, Purdue, Clemson, and East Carolina, provides students with an excellent opportunity to network. According to Ethan, he was able to build "relationships with CEOs (and) vice presidents" but he also appreciated the chance for "student relationship bonding." Noting that he is still in touch with several people he met at the conference, he feels he is still reaping the benefits of what he experienced back in April on this road trip made possible by the Industrial Distribution Partner Program.
While Devin admits that the ID program is the "best kept secret at UNK" he also wants to share it with others and hopes for new recruits. Opportunities like the MHEDA conference helped make what he learned in the classroom come to life, an experience he feels will benefit other students as well.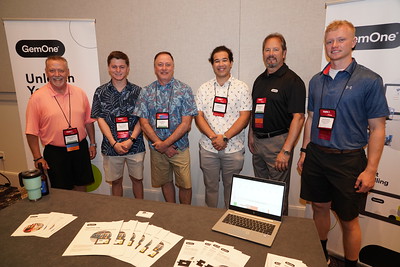 Thankful for this opportunity to learn more about the use of technology as well as problems unique to the industrial supply chain, both students continue to learn beyond this conference thanks to the many people they made connections with. In typical UNK style, Ethan and Devin were able to take what they've been exposed to by their professors and use it as a springboard for the vast knowledge shared with them at the MHEDA conference. Bringing back more than good memories from this trip, these UNK students were able to add connections they can use as they map out their careers.
Related Pages: Preparing Today's Students for Tomorrow's Industrial Distribution Industry