Preparing Today's Students for Tomorrow's Industrial Distribution Industry
Posted: August 23, 2022 12:00:00 AM CDT
There aren't many programs that can boast nearly 100% job placement since its founding like the Industrial Distribution (ID) program at the University of Nebraska at Kearney can. As one of the few ID programs in the nation, UNK shares this distinction with schools such as East Carolina University, and Purdue University. According to Dr. Ben Brachle, an ID faculty member, UNK "just can't graduate students fast enough because they are uniquely positioned to get into these career roles." Since its start in 1989, the ID program has always focused on preparing its students for careers in this industry which Dr. Brachle explains is "hidden in plain sight."
Through the generosity of the ID Program Partners, this program has enjoyed recent growth. Thanks to the funding provided by these partnering companies in the industry, one professorship and two fellowships were recently created. Dr. Brachle explained that the professorship was "created to keep the industry relationship strong" since this degree prepares students for "business-to-business industrial sales." The industry partners clearly understand the importance of building a strong link between academia and industry. And the ID faculty value this important feedback loop from industry as it ensures they deliver curriculum that is current and relevant and cultivates agility. Dr. Bachle states that "a lot of our students come back as senior salespeople, managers or district managers or profit center managers, and they recruit from our program." This is an example of the unique relationship Dr. Brachle and his colleagues in the ID program foster between students and the industry. He credits the ID Program Partners with helping further the mission of the ID program by the way they "sit on advisory boards, get in classrooms, and help with the sales competition." A former ID professional before he transitioned to the classroom, he understands the importance of a strong collaboration between the university and those currently in the industry.
Two fellowships were also created thanks to the copious support of the ID Program Partners. Mr. Alejandro Cahis, an ID faculty member, sees his role as one that will "incorporate sales competitions" with the goal of exposing "the students to different scenarios that they could en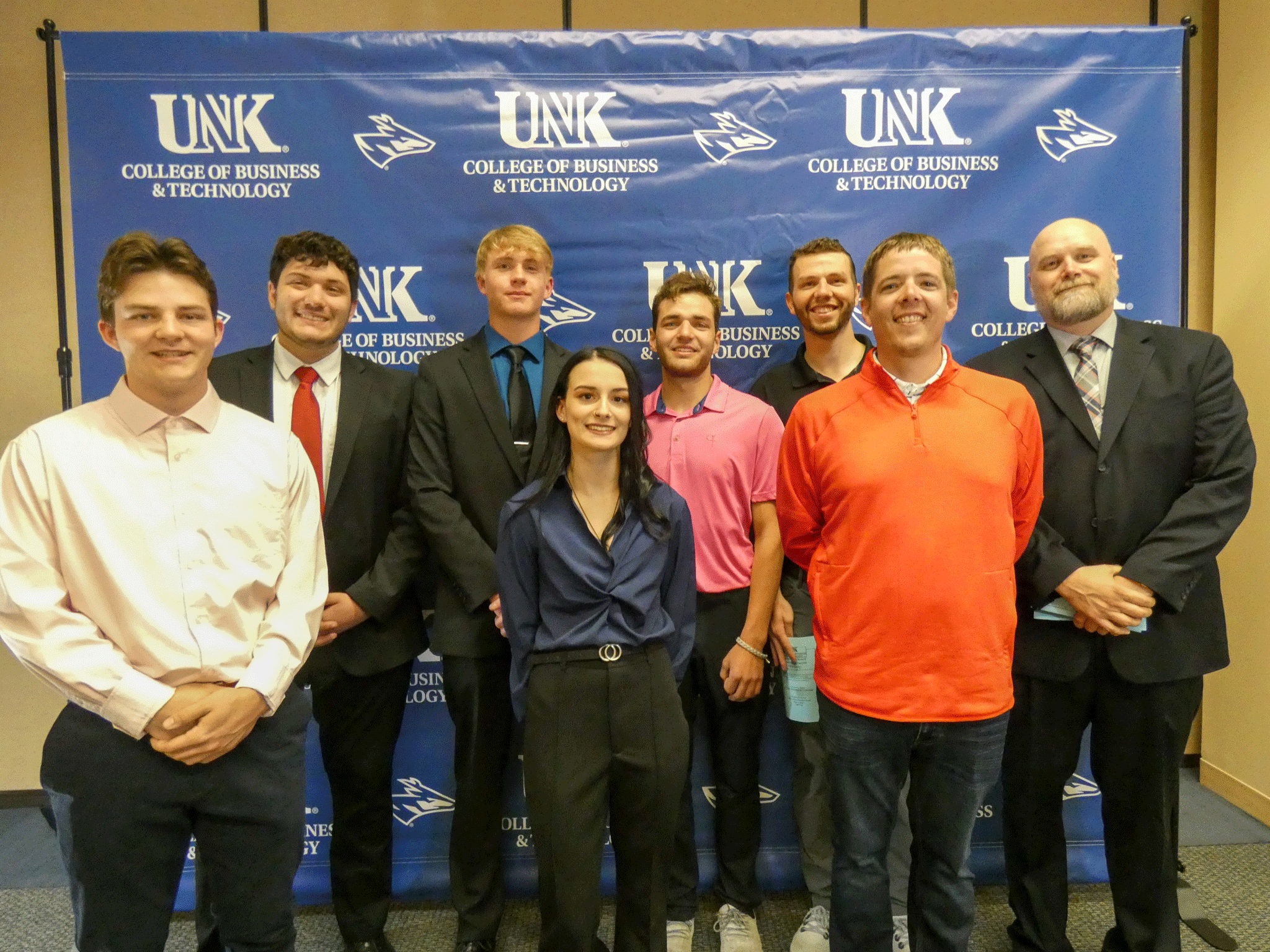 counter in the real world." He explains that he believes "the more practice they have to different situations and scenarios, the more comfortable they are going to be by the time they enter the real world." This type of experiential learning is a hallmark on the campus of UNK, and Mr. Cahis is doing his part to ensure the students in the ID program will be able to look back on their classroom experiences as a time when they had "the opportunity to develop and practice their skills." Through the sales competitions made possible by this fellowship, he understands that ID students will also have the chance to network with industry professionals as well as other students.
In addition to the sales competitions, another fellowship, one which focuses on recruitment, was also made possible thanks to the ID Program Partners. Mr. Mitch Peters, an ID faculty member, is focusing on making connections with students in high school, enrolled at a community college, and at the university level. He explains that this "industry is currently in extremely high demand for technical sales representatives" and he believes that this fellowship does more than meet that need. He states that it "also brings students to UNK who would otherwise attend other institutions."
Although the ID program at UNK now is offered as a minor, the vast majority of students choose this degree as their major. Having recently graduated its 1,000th student, UNK's ID program is on sure footing with major universities across the United States. Thanks to the dedication of its faculty and the generous support of the ID Program Partners companies, this program is better equipped than ever to fulfill its mission of preparing students for their future roles within this booming industry. According to Dr. Brachle, the ID program at UNK is "a hybrid degree" offering both business and technical classes. He states that you only need to "slam those two pieces together" to describe the ID program at UNK which is perfect since both technical sales positions and business roles are necessary in this industry.
At UNK, ID students are prepared through role-playing and sales competitions, networking with professionals through career fairs and conferences, and rigorous courses designed to offer lessons which will be used as part of their future careers. The newly created professorship and two fellowships will solidify the strength of UNK's ID program. This unique program, which Dr. Brachle explains is one of the "hidden secrets" at UNK, is not available at a lot of the larger universities in the area. With a market for technical sales being so prevalent right now, ID students at UNK have the opportunity to step right into their future profession as soon as they graduate. Thanks to the Industrial Distribution Program Partners, this already strong program will be strengthened and the word will spread to other students to discover this hidden gem right here at the College of Business and Technology at UNK.