Online Loper Spotlight: Aleah Hines
Posted: November 18, 2020 8:00:00 AM CST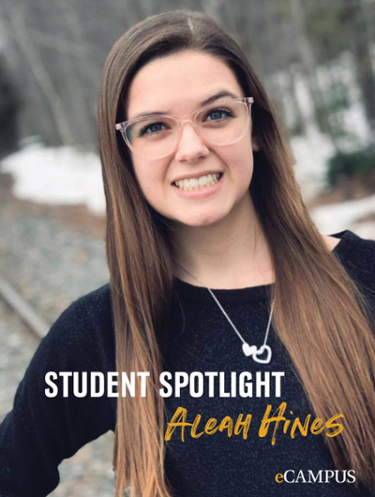 "I have always been interested in how businesses work."
Aleah Hines became attracted to business by watching her mom work as a business administrator. After completing several high school business courses, her interest grew. Today, as a student in UNK's online B.S. in Business Administration with an online Accounting minor, Aleah is developing expertise she will need to enter the field with a competitive edge.
A resident of Quebec, Canada, Hines noted that her age and location were two major factors in selecting an online program for her undergraduate degree: "Quebec is a French speaking province. Because I completed high school in English, I didn't want to study at the French university here. I also graduated high school at the young age of sixteen. I did not feel ready to move to a university too far from home."
UNK's online program paired a high-impact experience with the flexibility and support services that Hines was looking for, but how does an aspiring college student select a university over 1,000 miles away from home? For Hines, a personal connection made the decision easier: "My older sister just completed her master's degree in Biology through UNK's online program, so I had a direct reference. I saw how well organized UNK's online programs are and the variety of available online courses," she said.
"The most challenging part of online education is probably time management. It's easy to get distracted or lose discipline [for] studying. I think having a routine has helped me most. I try to keep a consistent work schedule and a regular time set aside for myself."
Hines is no stranger to hard work. As a part-time lifeguard and swimming instructor, she recognizes the obstacles that are associated with balancing work, education and life. And while online learning has its challenges, Hines noted that UNK's "friendly" and "impressive" faculty offer organized and enjoyable courses. Interaction through engaging lectures, discussion boards or Zoom meetings has been a common thread in her coursework so far, and instructors are quick to make her feel comfortable asking questions about course material. "These beneficial interactions are something I would not have expected in online classes," said Hines.
Her motivation to pursue a career in business has propelled Hines to success at UNK, but she is already looking ahead. Once she completes her bachelor's degree, Hines is interested in continuing her education by pursuing a master's degree in business administration. Her love for numbers may also lead to mastering the Certified Public Accountant (CPA) exam.
"After that, I just have to wait for the right career opportunities to come along," said Hines.
Equipped with a bold UNK edge, there is no doubt that Hines will forge a successful path of her own in business.
Are you ready to rise in business? Visit ecampus.unk.edu to learn more about our online business programs or contact us at ecampus@unk.edu or by phone at 1-800-865-6388.