Developing Your Plan from a Distance
Posted: April 15, 2020 9:30:00 AM CDT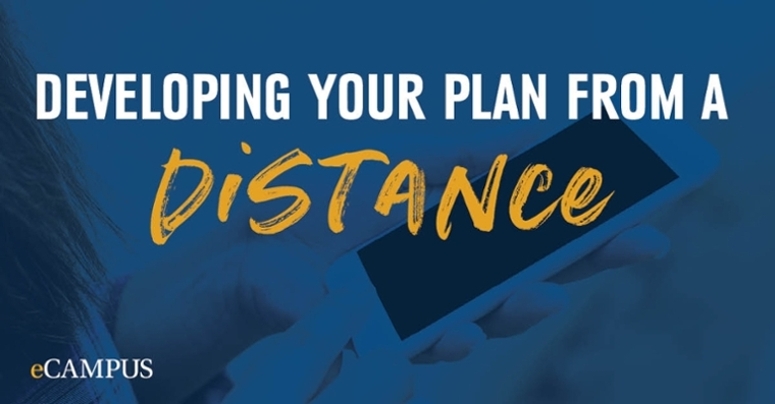 Recently, the word "uncertain" has been used to describe the state of, well, almost everything that is upcoming. Many college students are busier than ever before, combining responsibilities from different aspects of their lives and caring for those around them whether in-person or virtually.
If you are experiencing new or added stress during this time, it can be comforting to focus on tasks that are in your control. Developing an academic plan, for example, will allow you to focus on your future and the steps you will take to achieve your academic goals.
Here's some advice on how to develop your plan from a distance:
Be realistic about your responsibilities and the commitment that you'll be able to make to future coursework. Consider your typical schedule and obligations that relate to family, work, your hobbies, etc.


Review your degree audit to monitor your academic progress. Take note of your remaining requirements and contact your academic advisor right away with any questions or concerns that come to mind as you read the information.


Meet with your academic advisor to discuss your plan for the upcoming semesters. Many advisors are available to meet virtually via Zoom or by phone, so reach out as soon as possible to schedule a meeting. Check out our previous blog post, How to Get the Most out of Your Academic Advising Session, if you need some advice prior to your meeting. It is a good idea to have your degree audit and the MyBLUE course schedules open while you visit.


Register for classes through MyBLUE. Be prepared to e-mail a department's chair if you need a permit to successfully register for a specific class. Review your registration information carefully as you go through the process. Courses that you have registered for are typically available to view in your degree audit within 24 hours, so take another glance at your audit and make sure it looks the way you expect it to after adding courses to your schedule.
Many things are uncertain about the days that lie ahead but achieving your academic goals doesn't have to be. If you have any questions as you develop your academic plan, don't hesitate to reach out. UNK's faculty and staff are here to offer you support and guidance.  
For more information about upcoming online courses or to access helpful online student resources, visit ecampus.unk.edu or contact us at ecampus@unk.edu or by phone at 1-800-865-6388.