Reach Your Goals with the College of Business & Technology Career Center
Posted: August 2, 2019 3:40:00 PM CDT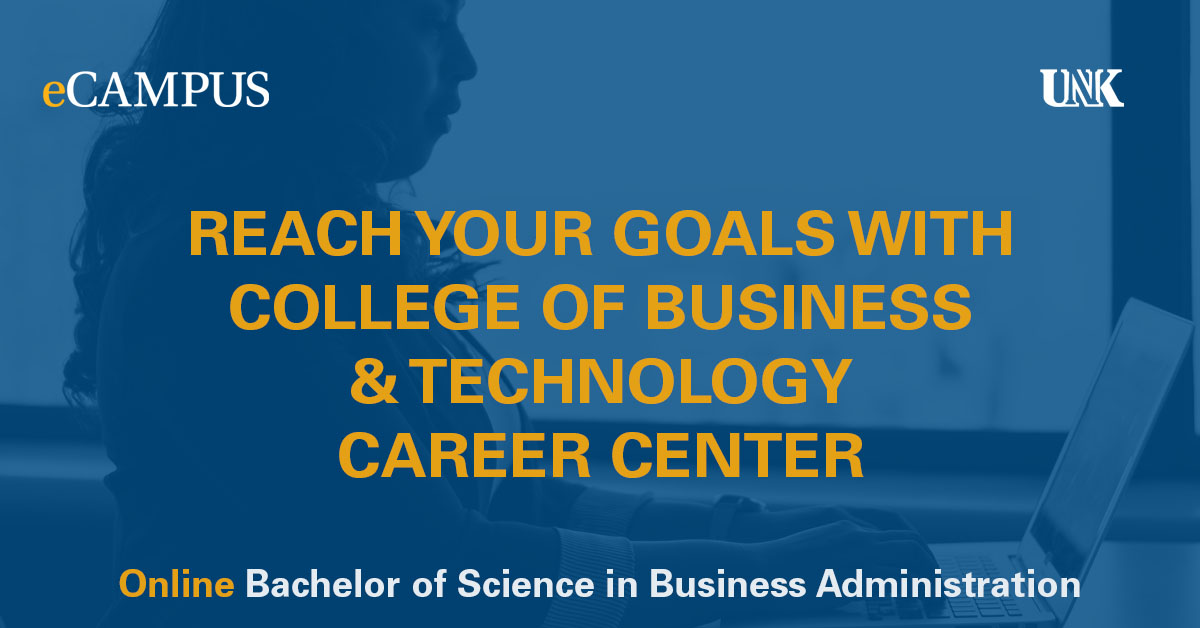 The University of Nebraska at Kearney's Bachelor of Science in Business Administration online degree program is ideal for working adults interested in skill and knowledge development. Graduates often find positions in management, marketing, accounting, finance, economics, human resource management, information technology and supply chain management. The UNK business programs are accredited by AACSB International, the highest standard of achievement for business schools worldwide.
Students in this program have a very strong support system in the College of Business & Technology Career Center.  The focus of the Center is to prepare students while they are a UNK student to ensure they have a job when they graduate.  The Center staff offers their services to on campus students in person but are also willing to do their typical services such as resume reviews, career coaching and internship preparations via Zoom or through e-mail for online students.
Faculty members that assist students at the Career Center are also teaching students ensuring students are being prepared in their coursework along the way.  Three required courses within the degree program help highlight the resources available as well as prepare the students for the careers they want to obtain upon graduation:
BSAD 100 – Exploring Business: Typically the first business course students take in their online experience at UNK.  During this course the faculty member shares the resources available at the Career Center.
BSAD 295 – Business Communications: Faculty present on resumes but also discuss with students the types of experiences outside of the classroom they should be involved in while they are in college. Education + Experience = Greater Opportunity.
BSAD 400 – Professional Readiness: Students complete this course as they near graduation and are ready to begin their careers.  Topics covered include career search success, professional best practices and personal development.
 Career Center staff are an excellent resource as students look at internship options. "We believe one of the most beneficial and meaningful experiences for a student is an internship. Internships develop critical soft skills and piece together concepts learned in courses, said  Brenda Jochum, UNK College of Business & Technology Career Center Associate Director. 
If you are a current UNK Bachelor of Science in Business Administration student this is an excellent resource available to you to help you as you transition to life after college. If you are a potential student considering applying for the Business Administration online program at UNK, know that you are not alone as you go through the program and prepare for your future.  If you would like to learn more about the services the Center offers or look at their career links simply visit their website at, http://www.unk.edu/academics/bt-career-center/index.php.