Enhancing the Graduate Student Experience
Posted: April 5, 2019 11:00:00 AM CDT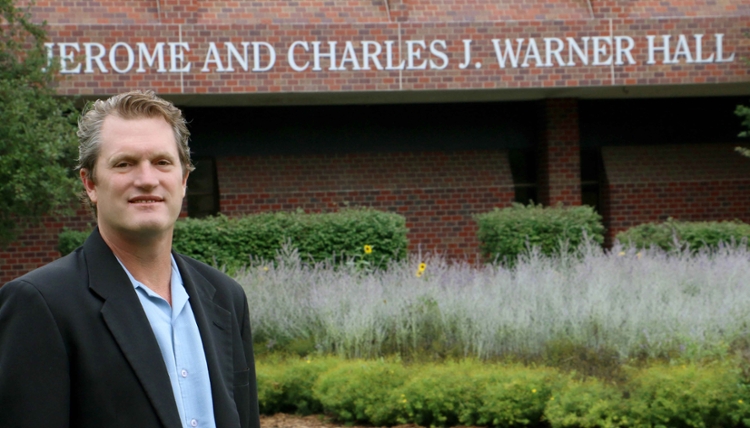 For almost 20 years, Dr. Mark Ellis has been involved in graduate studies in the University of Nebraska at Kearney's Department of History—from teaching over 300 graduate students and advising 54 master's theses to serving as chair of graduate programs and his department. Now, as UNK's new dean of graduate studies, he's working to ensure that all graduate students receive a high-quality degree and the best experience along the way.
In celebration of Graduate and Professional Student Appreciation Week, April 1-5, Ellis shares his vision for UNK's graduate programs and his commitment to helping on-campus and online graduate students succeed in their education and careers.
Building new programs
"Enrollment in on-campus graduate programs continues to remain steady, and enrollment in online graduate programs continues to grow. I expect that new on-campus and online graduate programs will see growth in the next few years, and we have several other degrees and certificates in developmental stages. These increased options will make it possible for more students to earn an affordable graduate degree in an area that best fits their goals."
Strengthening existing programs
"There are many opportunities for currently offered graduate programs to either add an online track or an additional track to meet the needs of working professionals who need more flexibility in their education. Online students comprise 87% of all UNK graduate students, and I hope to see online graduate enrollments reach 2,500 students in 4-5 years."
Facilitating student success
"At UNK, we are always finding ways to enhance the graduate student experience. We have reenacted the Graduate Student Association to give graduate students a voice about their programs and careers. We have also launched a series of professional development workshops to ready graduate students to go into the work force or continue their education at the next level."
View the options for online graduate programs and on-campus graduate programs to get started on an advanced education from UNK.