Day in the Life of a Communications Professional
Posted: April 19, 2019 2:45:00 PM CDT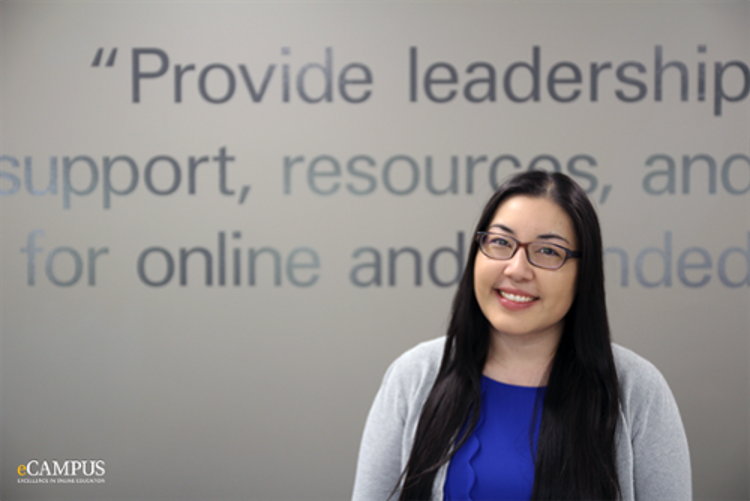 Communication is the heart of any organization. The ability to communicate information accurately, clearly and as intended, is a skill and something that should be the focal point of any organization's core values. It is a two-way process that requires both sending and receiving information but more importantly, developing a shared understanding of the information. It is an active process that Rosanna Vail, Communications Assistant with eCampus at the University of Nebraska at Kearney, prides herself on.
We asked her to describe her passion for effective communication and how she connects with her audience.
What inspired you to choose your career path?
I learned to read when I was very young and always wanted to be a writer. Growing up in Hawaii, I became increasingly interested in Standard English grammar and mechanics, so I majored in English/Writing when I attended Southern Oregon University. Everyone asked me the same question: "What will you do with an English degree if you don't want to be a teacher?" My plan was to use professional writing and editing skills to create effective communications that serve a purpose and help people. Soon after college, and still 15 years later, I'm in the field of university communications.
Describe your typical workday as a communications professional.
I work part time for UNK eCampus, preparing recruitment communications for online programs. My mornings include responding to emails, collecting information or interviewing people to gain expertise, and most importantly, writing accurate, helpful, persuasive content to support lead generation and enrollment. I work with a tight-knit and effective team at eCampus, and we touch base often to stay on track with projects and goals. The rest of my day is spent working another part-time job as the managing editor of a peer-reviewed science journal, which requires technical editing, publication management and communication with global audiences.  
What's the most challenging part of what you do? The most rewarding?
The most challenging part of what I do is communicating the value and need of online education in a way that sparks people to take the desired action: to apply to UNK. Constantly trying to convince an audience to do something—authentically and ethically—is both challenging and rewarding. Although no single person or group can take credit for increasing enrollment, it's gratifying to know that I can help support those efforts. I find it most rewarding that what I do plays a role in people making an important, meaningful decision and reaching a milestone in their life.
What is your story of perseverance in education?
I went back to school in my 30s to complete an online master's degree in technical communication while working about 65 hours per week between a full-time and a part-time job—and in the midst of moving to Kearney, Nebraska. Over the past decade, I've interviewed countless online students who didn't think they had the time, money or energy to go back for a degree as busy working professionals, but they took the leap and achieved their goals. I've heard their words, and I've written their stories—and they  empowered me. I earned my master's degree about a year ago, and I have no regrets!
How do you relate to your audience of prospective students?
Having been a non-traditional online student myself, I feel especially connected to this audience. All those fears and doubts about being good enough for graduate school, affording the time or money—these are all real emotions that prospective students grapple with when deciding to earn an online degree or pushing themselves forward even during difficult times. I try to anticipate what this audience needs to know and how to communicate the information in the most effective way. Listening and learning from their stories is a big part of how I relate to them and why I advocate for them.
How do you stay motivated to keep doing what you do?
There are many projects, details and certainly a lot of words that I encounter in my day. Sometimes "content overload" is a very real thing. At the end of the day (or often at the beginning), I just try to remember why I started doing this and who it's all for. In fact, there's a bracelet I wear that says "remember why you started," and I think that's good advice in any situation. The most effective motivation to keep going is to think about the people I am helping when I keep pushing myself to excel each day more than yesterday.  
To learn more about eCampus and online programs, visit ecampus.unk.edu.