UNK Social Work B.S. graduate Lena Corrado hopes to improve the lives of military families, like hers
Posted: January 23, 2023 12:00:00 AM CST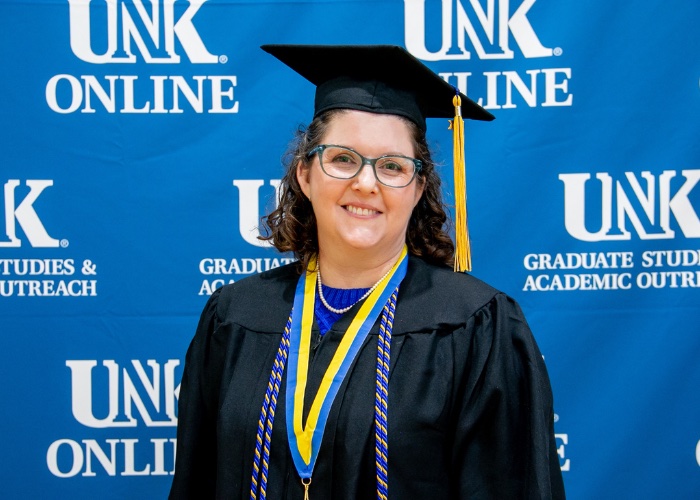 Lena Corrado, a winter 2022 Social Work B.S. graduate, has a long history of heroes in her family. She plans to continue the heroic lineage, but in her own way. 
 
"My brothers were in the military, my dad was in the military, my mom worked for the military, my grandpa was in the military, my grandma was in the military, my uncles, and my great uncles," explains Corrado. "They've been in every war since WWII." 
 
Corrado was born in Okinawa, Japan and has moved over 30 times, including a total of six years in Japan and four years in England. She currently lives in Twentynine Palms, a Marine Corps base in California with her husband, current military police officer, and their three younger children. Her two older children are both in college; her daughter attends San Diego State University in California and her son is currently at the University of Nebraska at Lincoln and hopes to continue the family tradition by becoming an officer for the U.S. Air Force after graduation. 
 
Having lived in so many places, Corrado said that she enjoyed England but feels a special connection to her birthplace of Okinawa. 
 
"There's just something about the people, the land, and the water," said Corrado. "My favorite feeling in the world is floating in the water there. It's really salty, and there are coral reefs, so it breaks the waves and it's warm, and it's like heaven." 
 
Corrado's been around the world, but her travels never brought her to Kearney until the day before UNK's winter commencement. 
 
Once on campus, she said, "I feel like I belong here."  
 
Coming from warmer locations, Corrado was not prepared for Nebraska's winter weather. 
 
"I don't even have a winter coat," Corrado explained, showing off her outfit for that day. "These are two of my husband's jackets. I am just layering them up." 
 
Corrado may not have been a fan of the cold temperatures, but she is a devoted Loper and truly thankful for the opportunities the UNK online programs provided her. 
 
"The online option was amazing. It made a huge difference for me," said Corrado.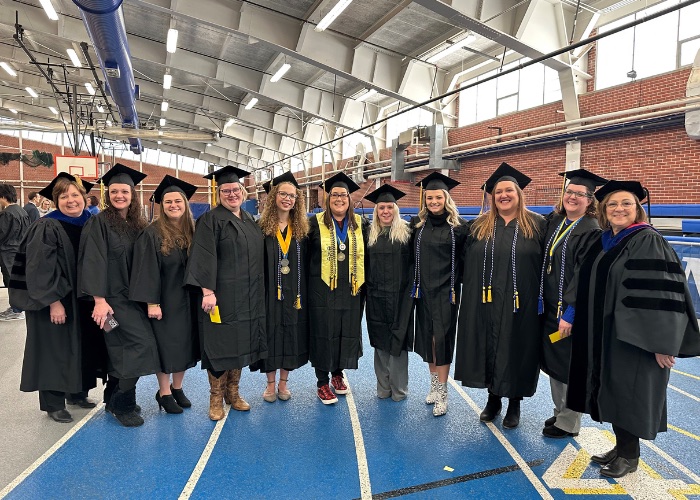 Corrado took UNK Online courses while she was living in Japan, where her husband was stationed for four years, and she finished her degree in California. 
 
"Even though I was in Japan, I felt entirely connected to the college, my professors, and my peers," said Corrado. "My professors know who I am. They are cheering for me. They want me to succeed, and they want the best for me. Going here, it just makes so much sense." 
 
While the program was a perfect fit for Corrado, there were still challenges to overcome. 
 
"It was interesting because there were times when it was a problem, the time difference," said Corrado. "There were times I was up at 5 a.m. to attend meetings at 6 a.m. There were some hurdles here and there, especially when everything is assigned for a certain time, but it's a different time and a different day for me. But I still got an A!" 
 
Corrado not only overcame the challenges but conquered them. She graduated Summa Cum Laude, was awarded the College of Arts & Science Outstanding Senior Award, and was a member of the Phi Alpha Honor Society. 
 
"I don't know if there is another place that you can get the quality education for the value of UNK," said Corrado. "When you are an online student, it is easy to just become a number. UNK is a smaller school and it's got professors that really care so you're not a number. It helps you become connected and part of something, and I think in social work that's really important." 
 
Corrado will start graduate school in fall 2023 at the University of Nebraska at Omaha in their online Master of Social Work program. She hopes to continue what her family has been doing for 80 years by becoming a social work hero for military families, just like her own.  
 
"The need is very significant. There is a mental health problem within the military, but that extends to the broader families as well. It can be a very hard life. It can be an isolating life. Unemployment is high. Research shows that military kids have a lot of challenges as well," explained Corrado. "Social workers can really help make that better."