Biology M.S. program opens new doors for Blase Rokusek
Posted: October 21, 2022 12:00:00 AM CDT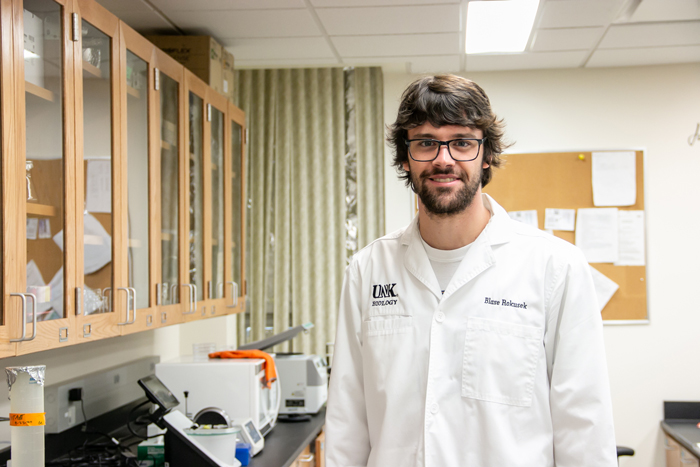 UNK offers a plethora of educational and extracurricular activities, from intramural sports to unique clubs and organizations to undergraduate and graduate research, students have their pick of the crop.
For Blase Rokusek, the opportunity to participate in research in his undergraduate program fueled his desire to pursue a degree in the biology master's program, while also providing new experiences and uncovering new passions.  
"I have always been very interested in science. I had some experience with research during my undergraduate time at UNK with Dr. Lanz in the psychology department, and I absolutely loved the process of research," he said.  
The thesis option for a master's degree in Biology gave Rokusek the opportunity to gain more research experience. He has published work in UNK's Undergraduate Research Journal and the Human Anatomy and Physiology Society Educator. He also has work that has been accepted and is in the press for Scholarship of Teaching and Learning in Psychology. 
Rokusek worked alongside faculty across several departments in his research projects, including Drs. Janet Steele and Kim Carlson from the Biology Department and Drs. Krista Forrest, Chris Waples, and Julie Lanz from the Psychology Department.  
Although research drew Rokusek to the program, teaching has become an integral part of his graduate experience.  
"My favorite thing about the program is the opportunity to teach and work with students. I have been a teaching assistant for the biology department and really love that experience," Rokusek said.  
Not only does Rokusek currently serve as a teaching assistant, but he also includes education in his research projects. One of his research endeavors with Dr. Lanz involved studying effective methods for teaching undergraduate students about psychological critical thinking skills.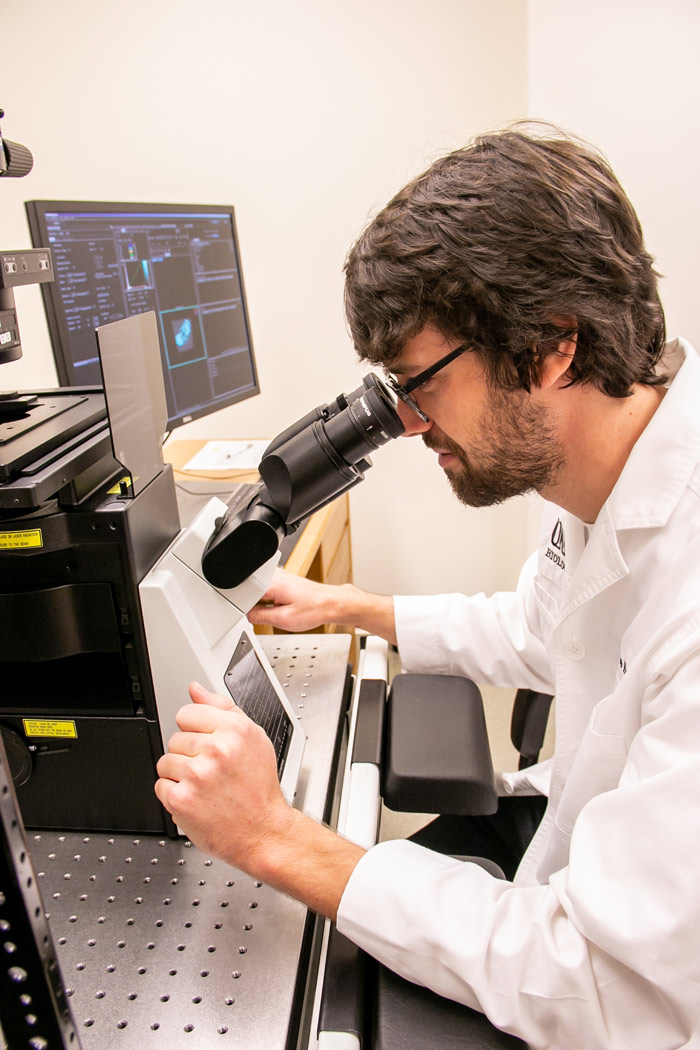 Another project he contributed to involved effective supplemental teaching of anatomy and physiology at the university.  
"I was a supplemental instruction leader with the Learning Commons for two years," Rokusek said. "It was really cool to get to have empirical evidence that [showed] what we do as supplemental instruction leaders is helping students to learn more effectively." 
Although his current research projects do not include the educational aspects of his other work, Rokusek enjoys the work that is presented to him in the Biology program because of the long-term impacts. All current projects being conducted reside within Dr. Carlson's lab.  
Fruit flies comprise the focus of two of Rokusek's projects.  
"We are attempting to further characterize a fruit fly virus. One aspect of this is determining whether the virus infects the nervous system of the fruit flies," Rokusek said.  
The results of this study could be very beneficial for future studies, especially those that involve humans.  
"The information we garner about this virus can be informative for other genetically similar viruses that infect humans," he said.  
Another research question with fruit flies deals with environmental effects and their broader meaning.  
"Also in the Carlson lab, we are working on a project examining lipids in heat tolerance in fruit flies. This work will have implications in the coming years as insects will have to cope with rising temperatures as a result of rapid climate change," he said.  
In addition to his work with fruit flies in the Carlson genetics laboratory, Rokusek also contributes to a project that deals with antiviral drugs.  
"We are also working on a project that is testing the effectiveness of a drug with broad-spectrum antiviral activity," Rokusek stated.  
His decision to pursue a master's degree in Biology opened new doors for Rokusek and left him with a positive impression of the university, its faculty, and its research possibilities. 
"I think that UNK does a good job of being an institution that really focuses on teaching, and [the university] has some really good teachers," he said.