How the ROTC Program Can Benefit Both Your Studies and Finances at UNK
Posted: September 27, 2022 12:00:00 AM CDT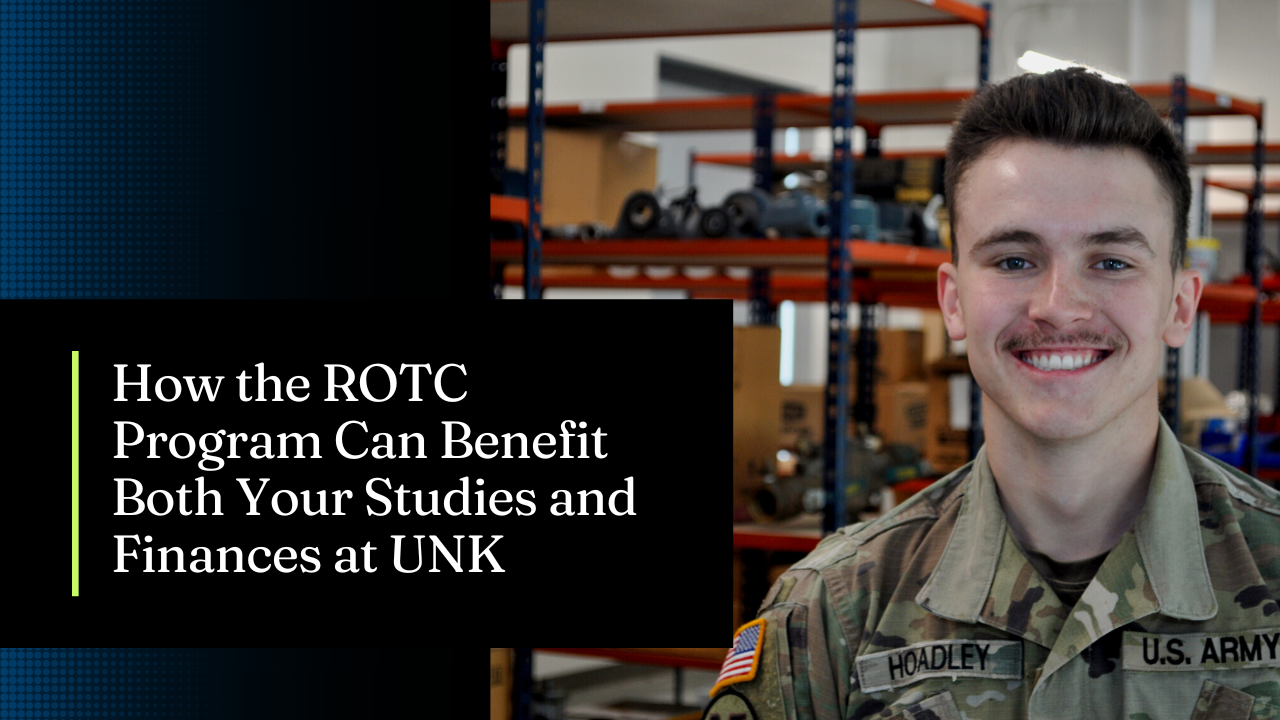 Being part of the ROTC program has helped Caleb Hoadley, an Industrial Distribution major, be a better student and leader at the University of Nebraska at Kearney. Born and raised in Columbus, Nebraska, he took a gap year after high school to enlist in the National Guard and complete basic training. Then he turned his thoughts to college and graduating debt free.
A kind and outgoing person who can walk into a room and meet 15 new people and leave with 15 new friends, Caleb, a junior, appreciates the family-oriented aspect of ROTC, which is always there to help and support students. "ROTC instructors let you know they are there for anything you need, whether ROTC or life in general."
This security net made him a better student and then mentor to new members. "I know people who were not doing well in school and within a month of joining ROTC they are talking about their grades being better." Caleb, whose favorite food is pizza, admits he was once a floundering student and credits ROTC for motivating him to be a better student.
While Industrial Distribution focuses on management and preparing students for high-level careers in business leadership and technical sales, there are few student leadership opportunities. This makes the ROTC leadership opportunities Caleb experiences quite valuable.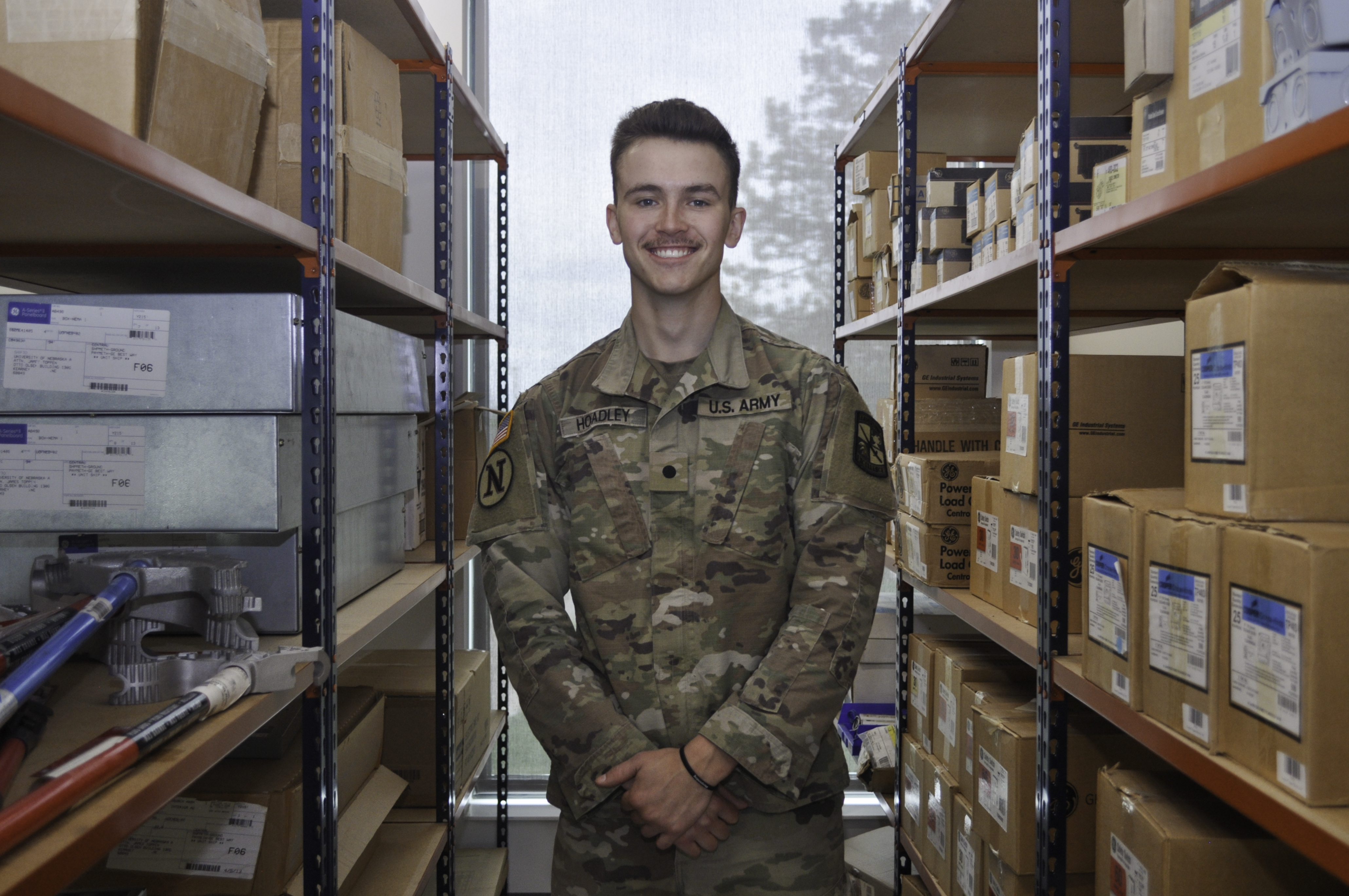 Learning to lead and manage is a big part of ROTC. "We are always rotating in and out of different positions and learning different aspects of the program – from the financial side of the program to being a squad leader," Caleb explains. This is one reason he thinks Industrial Distribution and ROTC complement each other. "Industrial Distribution is about connecting and relating to the customer, making sales, helping employees below you, and learning people skills. ROTC is about leading the people directly below you, learning on the go, and utilizing problem solving skills."
Caleb cites three reasons for students to consider joining UNK's ROTC program.
(1) Motivation to be a better student. (2) Financial help with school. (3) To acquire useful leadership qualities and attributes.
ROTC helps students succeed in the career of their choice. The UNK ROTC program has students in science, medical, business, and nursing majors. Of those 26 students, 17 have scholarships.
Caleb shares that students thinking about joining the ROTC often assume that because they will be in the military, their college life will be super strict. The truth is that while students have a little more responsibility, they still have free time. "I get to do all the fun things I want to do, while also having the benefits of being contracted and having financial gains." Caleb explains. "Plus, I am motivated to do well in school."
ROTC is an elective. With up to two years of coursework remaining, students can participate without a commitment. Until a student accepts an ROTC scholarship, and signs a contract, there is no obligation to commission as an officer upon completion of their degree. "They give you money and you guarantee to serve them when you graduate," Caleb explains.
Because Caleb is in both the Army National Guard and the ROTC Program, he is part of the Simultaneous Membership Program. His Minuteman Scholarship through the National Guard picks up tuition and ROTC picks up the equivalent of room and board, with extra money going into his pocket for living expenses.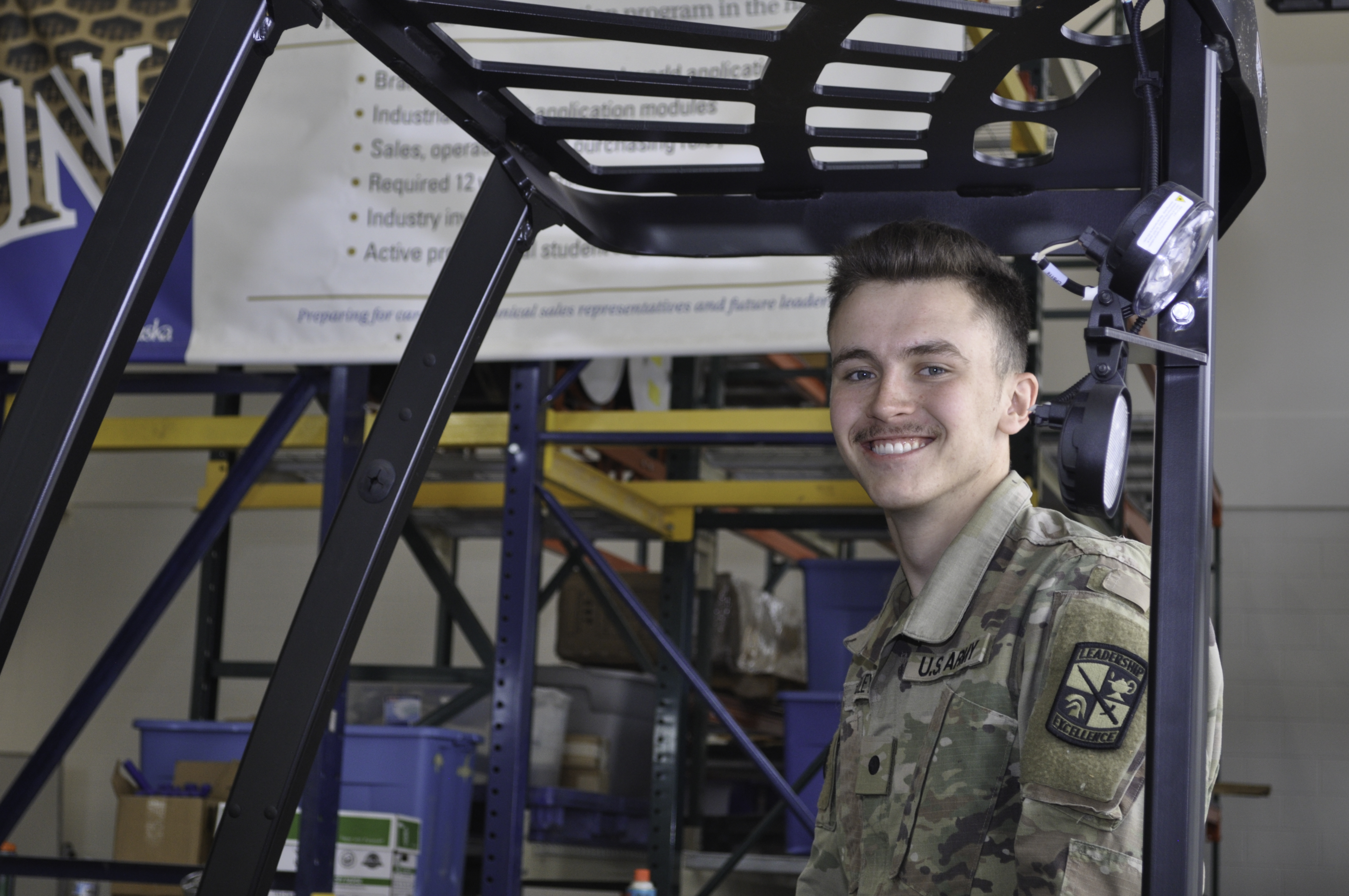 Typically, ROTC scholarships range anywhere from $14,000 to $27,000 depending on component choices.
Learning to succeed in competitive environments is another focus of ROTC. Last spring, Caleb, a hands-on learner, won a sales competition with the Industrial Distribution Student Organization, one of the largest student organizations on campus.
Post-graduation he will commission as an officer with the National Guard, working part-time to fulfill his 6-year contract, while also working full-time in the Industrial Distribution field. His long-term goal is to "progress up the ranks of management within Industrial Distribution and ultimately own my own business."