Wake Up and Smell the Coffee at Brewed Awakening in West Center
Posted: August 16, 2022 12:00:00 AM CDT
It wasn't too long ago that Brewed Awakening's manager Heather Harrison, if offered, would have turned down a cup of coffee. Even though she accepted the position of manager at Brewed Awakening, which is located on the west campus of UNK, she admits that she wasn't even a coffee drinker at the time. A lot has changed for Heather since then. In addition to applying her education as a business major to help rebuild this student-run business, she has also learned to appreciate a good cup of coffee.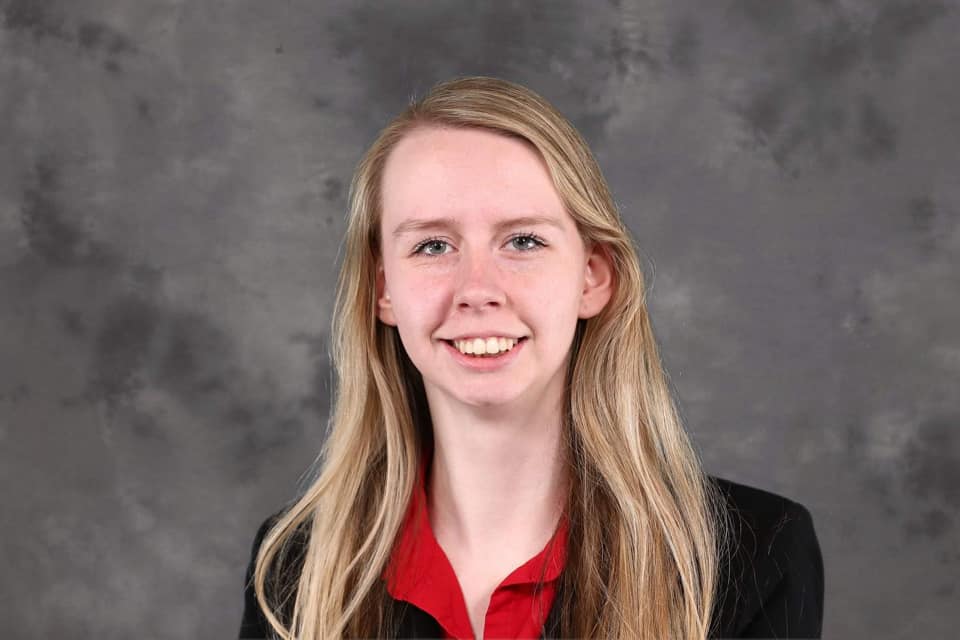 As students are welcomed back to UNK for this new academic year, they too can expect to see many changes. For those taking classes located in the buildings on the west side of campus, it's true that there is only one venue where students can go to eat, study, or just hang out, but this new meeting area has more going on than your average student union does.
Brewed Awakening offers more than just coffee in its open-space floor plan. Their extensive beverage menu includes hot drinks such as coffee, tea, apple cider, hot chocolate, and several espresso varieties. For those who would rather grab a bottled drink, the choices include Pepsi, Mountain Dew, Rockstar, Ocean Spray, and Gatorade. Anyone looking for a quick grab-and-go snack can find muffins in different flavors, fruit cups, yogurt, string cheese, and many more choices at Brewed Awakening. There are hot breakfast and hot lunch options as well. With a new partnership with Billy Jack's, breakfast pizza and pizza are now available. Those looking for a substantial meal will find breakfast burritos, biscuits and gravy, walking tacos, and soup on the menu as well as plenty of vegetarian choices.
More than just a place to find delicious food and drink options, Brewed Awakening is a spacious location to meet friends, study, or work remotely. Being on the west side of UNK's campus no longer means going home after class to grab a bite to eat. Most will remember when there simply wasn't a great lounge space or place to eat in West Center, but thanks to the renovated building that now houses Brewed Awakening, UNK has the equivalent of a second student union for students, staff, and even prospective students and their families to enjoy. According to Heather, members of the general public often use part of their day to visit the UNK campus to work remotely at the coffee shop. Heather describes how Brewed Awakening has made a huge impact on the west side of campus, leaving a positive impression on many lives.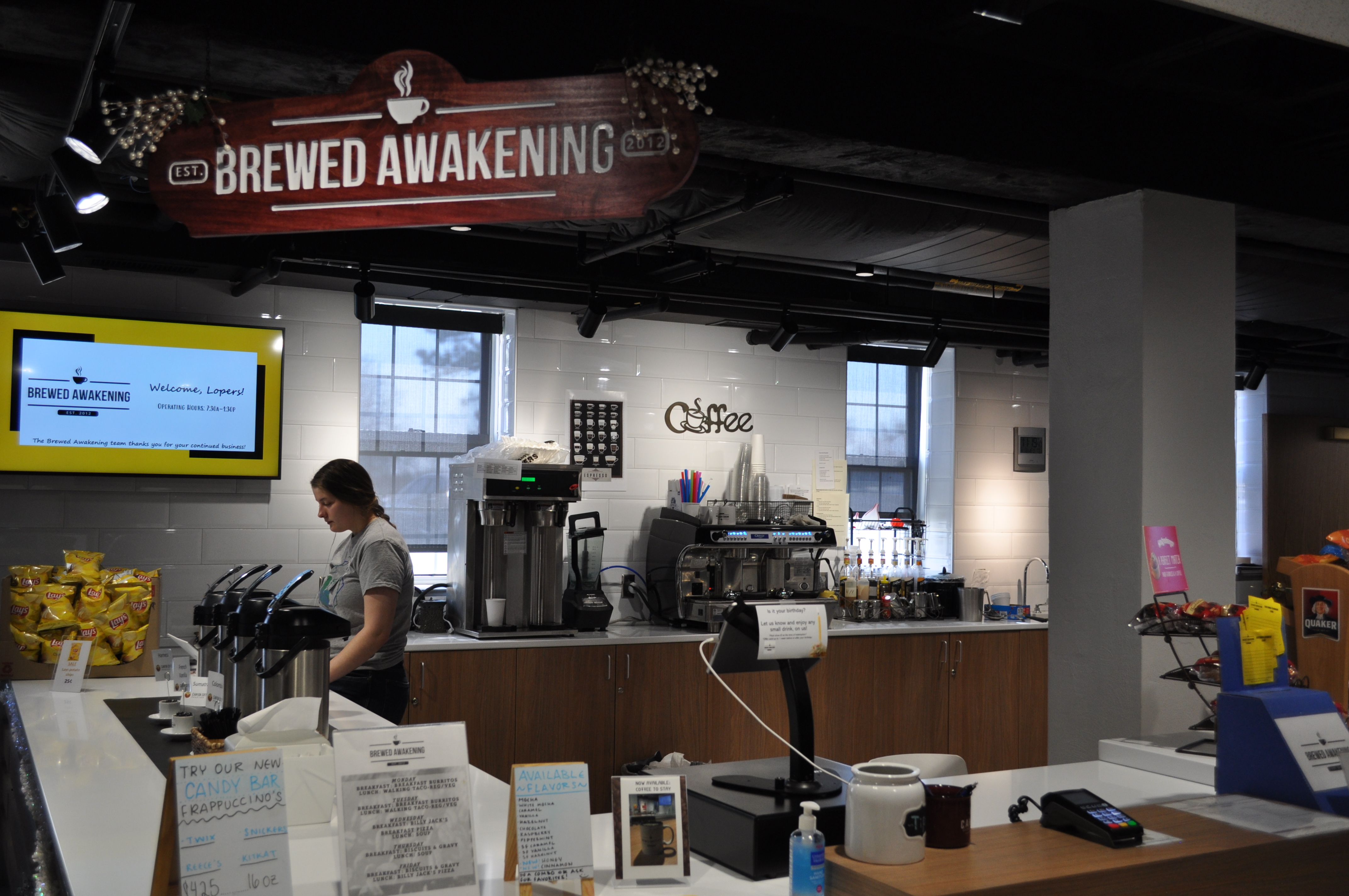 Students returning to campus shouldn't expect to see any evidence of how this all started though. According to Heather, she spent the first few months as Brewed Awakening's manager working in a building without power. She describes the challenges she faced navigating long extension cords while working. This was not the only obstacle she faced as the new manager of this student-run business. A current UNK graduate student, Heather credits her ability to transform Brewed Awakening into the successful business it is today to two factors. First, she learned how to observe her customers in order to anticipate their needs. She then used the marketing techniques she was taught in her classes to fulfill customers' needs. For Heather, this has been like watching class assignments come to life.
From her unique viewpoint as both a student at UNK and the manager of Brewed Awakening, Heather has been able to watch how people choose to use this innovative space nestled among the buildings of the west campus. Whether students are filling the tables while taking a break between classes or a professor is choosing to use this roomy and comfortable space for small group activities, Heather has noticed how the coffee shop has filled a void that she remembers feeling as an undergraduate student. Thanks to her work as Brewed Awakening's manager as well as the work of her staff, she is glad no one else will ever have to feel the need to leave campus to find a place to eat or to meet up with friends the way she once did. In addition to its everyday use by students and staff, Heather has also been able to utilize Brewed Awakening to provide services for UNK's Alumni Association.
While this past year has presented challenges as the coffee shop has grown, it has also been a time filled with exciting opportunities. She has met and trained new staff while establishing routines to make everything run efficiently. As she has worked this year, she has enjoyed being able to expand the knowledge she learned as an undergraduate student. She is gaining hands-on experience about what it takes to run a business. Although she admits she is not by nature a list-maker, running Brewed Awakening has taught her the importance of organization, including creating lists. She now values, more than ever, the need to be detail-oriented even though she recognizes there is always room for growth. Being organized, which she has learned truly makes all the difference when running a business, includes delegating tasks while learning the strengths and weaknesses of her employees. Heather appreciates the opportunity to participate in a student-run business while managing her staff. Since many of her employees are freshmen, she approaches her role as their manager as a chance to help them become acclimated to college life. Noting that having experience with coffee or even being a business student are not requirements to get hired at Brewed Awakening, Heather encourages prospective employees to go for it, not letting anxiety about working while attending college classes stand in the way of pursuing a job there.
She credits her assistant manager, Michaela Buchli, with helping her learn the impact small details can have on the overall operation of running a business. Michaela has increased the productivity of the coffee shop by writing opening and closing procedures for employees. She has also created recipe cards as well as introducing new products to benefit customers.
In addition to those she works with, Heather is grateful for everyone who visits the coffee shop. She especially appreciates the impact their constructive critique, coupled with their positive and supporting attitudes, have had on her. Through their encouragement she feels like she has gained the confidence needed to take the knowledge she acquired as a student and apply it to what she does day-to-day as the manager of this business.
Heather can't wait to see everyone this fall Monday through Friday from 7:30-1:30. A proud Loper, she's grateful to be involved with this place which she describes as not-your-average coffee shop. As part of this comfortable location where you can relax, grab a bite to eat, and study, everyone who works here is willing to go the extra mile. Whether it's just to hand someone their daily cup of coffee, provide catering, or take part in hosting an event, Brewed Awakening's doors are open to everyone. Stop by this semester and you'll quickly understand why Heather and her staff enjoy working here. You'll feel like you've discovered all that UNK is known for. Let Brewed Awakening fix you a cup of coffee, serve you some biscuits and gravy, and welcome you home.