Special Education M.A.Ed. gives Hannah Beck new teaching tools for art classroom
Posted: April 29, 2022 12:00:00 AM CDT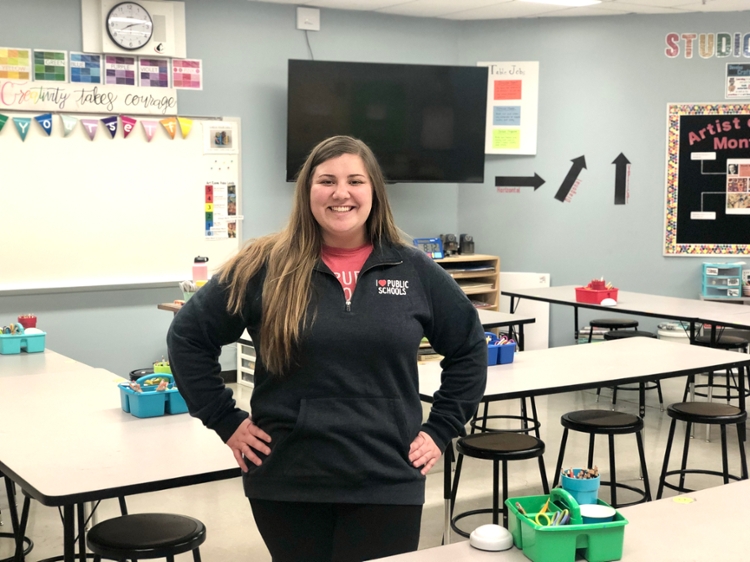 For Hannah Beck, there's no such thing as too many students.  
As both an art teacher and interventionist at Aurora Public Schools, Beck works with about 500 students each week.  
Rather than being overwhelmed by the number, she says it's one of the best parts of the role. 
"I think that's what drew me to the job; there's so much diversity in it, and I see so many kids in one week," Beck, who started her career as a fourth-grade teacher at Grand Island Public Schools, explained. "I see almost the whole building, compared to when I taught in the classroom, when I would just see 20 or 25. I liked getting to make that connection with lots of kids." 
The diversity among the students is what led Beck to pursue the University of Nebraska at Kearney's online Master of Arts in Education Special Education degree.  
While other schools had master's programs with "some" behavior courses, Beck really wanted to focus in that area. UNK's Advanced Practitioner - Behavior Intervention Specialist (BIS) emphasis ended up being a great fit. 
"I see 500 kids regardless of their IEP; no one is pulled out from my class," Beck said. "This (educational program) was a valuable tool to reach those students and provide as much support as I can." 
Beck is set to graduate in Spring 2022, but she says what she has learned has already made a difference in her classroom this past school year.  
One of the changes involves focusing more on positive reinforcement. Rather than repetitively say, "Don't do this" or "Don't do that," Beck developed creative ways to motivate students and hold them accountable for doing the right thing.  
For example, she now emphasizes three basic principles for all her students: 
Aim to do your best and do the right thing

Respect each other and the property

Trust in your ability to do the art 
The three principles together spell out, "Art." 
Each grade has its own bucket, and when Beck sees the students following these instructions, a block is placed in that grade's bucket. Once their bucket is full, the class gets a reward, like choosing what kind of art project to do. 
Beck also encourages individual students to go above and beyond by awarding them with a "lottery ticket," which they can use to get individual prizes.  
"The way I run my classroom is vastly different based on what I've learned," Beck said.  
She specifically praised Dr. Alice Cahill's courses, saying Cahill went "above and beyond" to apply what students were reading in their textbooks to the real classroom. These reflections made it easy for Beck to create tangible differences in her instruction.  
While Beck continued leading extracurriculars like cheerleading, the one act team, and middle school drama, she said the online format worked well with her busy work schedule. She generally took three credit hours in the fall and spring semesters, then nine credits in the summer, leading her to complete the program in three years.  
Even an hour away, Beck still felt connected to the UNK campus, like she did when she got her undergraduate degree in 2016: "UNK does a really good job with making sure that even though you're online, you're still a part of the Loper family."