Take Advantage of These Resources as an Online Student
Posted: September 8, 2020 8:00:00 AM CDT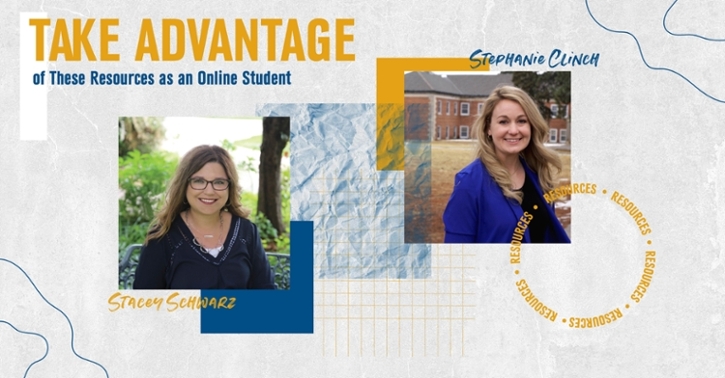 Fall semester has officially begun! As an online student, are you aware of the many resources that are available to help you succeed? If you're new to online learning at UNK or you just need a refresher, look no further. I sat down with eCampus Online Program Coordinators Stacey Schwarz and Stephanie Clinch to compile the most important resources that you should take advantage of as an online student:
Online Student Orientation
"As students get started in their online education at UNK, I would encourage them to use the resources available to them. Whether that is their advisor who is happy to help with absolutely any questions or the other online resources we have available such as the Learning Commons (tutoring service) or others listed in the Online Student Orientation," said Schwarz.
UNK's Online Student Orientation presents information on subjects like Canvas, LoperMail, registration, library services and more. Through this orientation, you will also learn the best practices for being an online student. The course is organized into modules that make it easy to find the information that you need on a specific subject. Use the information that is provided to learn more about UNK's online student resources!
Academic Advisor
Your academic advisor is a valuable resource who can offer not only sound course planning advice but also tips and tricks that will help you navigate college successfully. You will meet with your advisor once a semester for advising sessions, but consider building a solid relationship with this individual between advising times. If you are struggling to find the resources that you need on campus, your advisor can guide you in the right direction.
"Online students have busy schedules with families, careers and so much more; I want them to know that I am here to make their online experience at UNK as simple as possible. I am happy to do whatever I can to alleviate their stress," said Schwarz.
Academic Calendar
Let's talk planners. Are you a believer in the tried-and-true pen and paper or do you thrive with a digital planner? Either way, take some time to review UNK's academic calendar and fill in important deadlines for things like dropping and adding courses, the graduation application and tuition and fee payments. "I try to remind my students of important dates as they approach but it is essential that they stay up-to-date on UNK's calendar events, especially as they get closer to graduation," said Schwarz.
 UNK Community
You'll probably get tired of hearing this, but UNK's staff and faculty are truly available and willing to support you during your journey. Do not be afraid to reach out if you have questions or concerns along the way.
"As an online coordinator I am here to help students in any way possible throughout their time at UNK. I want students to feel comfortable to reach out with the smallest questions and the tough ones. Students are able to reach out via email, phone, and text making it even easier to keep the lines of communication open," said Clinch.
Clinch also emphasized the importance of connecting to others in your courses. "Being an online student comes with the amazing advantage of working with students from different states and possibly different countries. Take the time to really get to know your peers. Learn from each other as well as the amazing faculty at UNK." 
To access helpful online student resources, visit ecampus.unk.edu or contact us at ecampus@unk.edu or by phone at 1-800-865-6388 for more information.