UNK Launches Online M.A. in Public Communication
Posted: August 13, 2020 9:00:00 AM CDT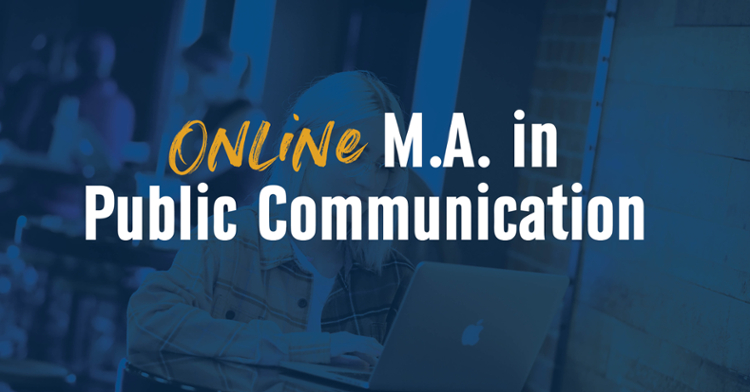 The complex and integrated nature of today's world has created a need for professionals who can craft nuanced and detailed messaging to strengthen the relationship between their organization and the public. The U.S. Bureau of Labor Statistics projects that this demand will contribute to a four percent growth of media and communication occupations from 2018 to 2028.
Starting this fall, professionals in a variety of fields will have the opportunity to advance in their careers while meeting workforce demand with the University of Nebraska at Kearney's fully online M.A. in Public Communication.
Department of Communication Chair Ralph Hanson and Associate Professor Fletcher Ziwoya offer additional information about the program:
Tell us about the online M.A. in Public Communication program.
The M.A. Public Communication is UNK's newest master's program within the Department of Communication. The M.A. is designed for early and mid-career professionals in a communication-related field who want to broaden the jobs they are qualified for or to prepare themselves for a promotion. Students will be learning how to translate communication concepts and theory into practical day-to-day situations within their jobs. Candidates who are completing their four year baccalaureate degrees are also welcome. Students also have a choice of capstone experiences through either a thesis or professional project. Experienced faculty will be on hand to work with them either way. 
What practical experiences will students in the program receive?
The M.A. program is designed to cover areas such as strategic communication, international/global media, digital communication, health communication. This coursework is aimed at providing students with real-world practical applications to situations.
What are the most valuable things students will take away once completing the program?
The main take away from this program is that students are being equipped to translate communication concepts into real-life situations in various contexts.
How long will it take students to obtain a degree?
This is a 36 credit hour program designed for two years if students average three classes per semester. But students also have the option of varying how many classes they take each semester, depending on what their schedule allows.
According to Hanson and Ziwoya, graduates of this program will have the opportunity to advance or transition into a number of career paths, including advertising, research and analysis, public relations/strategic communication, journalism and communication consulting. The program may also serve students as a bridge into a doctoral program.
Learn more about the online M.A. in Public Communication, or contact eCampus at 1.800.865.6388 or ecampus@unk.edu to take the first step toward your degree.