Online Student Spotlight: Kayla Nelson
Posted: July 21, 2020 11:00:00 AM CDT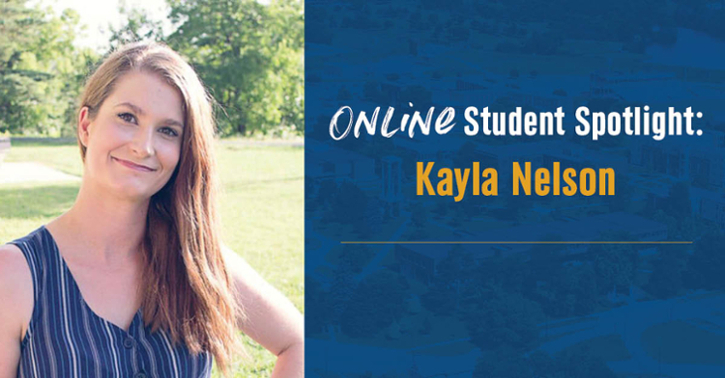 Kayla Nelson's love for history was sparked in the second grade. Today, this passion has inspired action within her community – as a recently appointed intern board member of her local historical society, she intends to focus on developing a new website and virtual museum.
UNK's online B.S. in History - Social Science program has given Nelson the opportunity to further develop her history expertise while she continues to serve in her community. As a mother of two daughters and a military spouse, Nelson is reaching her goals with a combination of balance, scheduling, focus and vanilla chai tea lattes from her local coffee shop.
Transferring to UNK
Communication was a key factor in Nelson's choice to transfer to UNK: "When [I was] first looking into the undergraduate history program I received a response to my questions almost immediately. This type of communication has continued…[it] has made for a seamless transition to UNK and has encouraged a very positive online learning environment so far in my studies." The UNK History Department's incredible reputation and a wide variety of online history course options also factored into Nelson's decision to attend UNK.
Creating Connections
Creating meaningful connections in a virtual environment can be difficult as an online student. After completing an online Introduction to British Literature course this summer, Nelson found that this would not be the case at UNK: "Professor (Denys) Van Renen selected some incredible works of British literature, he presented highly educational lectures and assigned homework that really made me dive into books like I have never done before. It was the perfect blend of British literature and British history for me; my writing, creative thinking and analysis is now immensely better," she said.
Overcoming Obstacles and Looking to the Future
Nelson's family is currently stationed in Northern California. "We have been here for about one year and this is our third move in eight years," she said. While being a military family can present challenges, Nelson said that she is "…glad to now be at a University that truly supports military and their families."
The flexibility that online education provides has also been pivotal to Nelson's success as a full-time student. "Solely online courses give me the wonderful opportunity to work toward accomplishing my goals and aspiration with the flexibility of not having to step into a physical classroom," she said.
Once she completes her undergraduate degree, Nelson hopes to continue her education with UNK's online M.A. in History program. "My long-term goal is to work in historical archive and to teach history to online students like myself," she said.
Ready to take the first step toward your degree? Visit ecampus.unk.edu to view a list of our online program options, or contact us at 1.800.865.6388 or ecampus@unk.edu to get started.