Empowering Online Students at UNK
Posted: April 9, 2020 9:30:00 AM CDT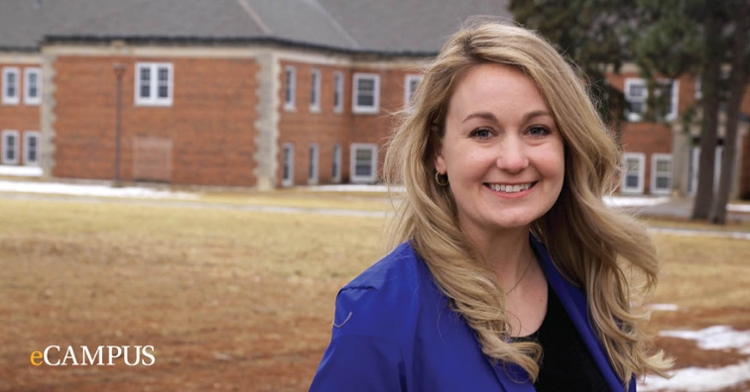 Today's prospective online students desire more – more interaction, communication, personalized attention, and support. They also expect to work with qualified staff members who can provide expertise and guidance as they consider whether an online program will be the right fit for their educational and career needs. Once admitted to a program, online students want the opportunity to truly connect and belong to their campus community - even from a distance.
The University of Nebraska at Kearney responds to modern online students with knowledgeable professionals who encourage students to succeed, from initial interaction to graduation. Stephanie Clinch, online program coordinator at eCampus, takes pride in building relationships with prospective and current online students. In her position, she serves as a support system for students and offers guidance as they continue their education. 
Stephanie shares more about her position and her passion for empowering students in online programs at UNK:
What inspired you to choose your career path?
Prior to moving to Kearney, I worked in a few different areas (from non-profit to government), so it took me awhile to really find my path. I knew I wanted to work for an organization that made a difference in people's lives and one that was ever-changing so I wouldn't be stuck in a rut. UNK was the perfect fit and I am so blessed to be able to work with a team who encourages professional and personal growth every day.
Describe your typical day as an online program coordinator.
Each day is completely different than the one before. I work with prospective students as well as current students. I really get to know the students on a personal level and help them through the hurdles of coming back to school and throughout their journey at UNK. I get to communicate via e-mail, phone, text message, and Zoom which makes communicating easy for the students and fun for me!
What is the most rewarding part of working with online students?
Most students that I work with are already working professionals, mainly teachers. Students who are considering UNK's online graduate programs are wanting to better themselves, not only financially but to really improve the experience they can give to their students in their own classrooms. Getting to know our students on a personal level and witnessing their passion for their subject of interest really inspires me. Something that also amazes me is that working with students online removes any physical location barrier. I love getting to know students from all over the country.
What's the most challenging part of what you do?
Initially, I was surprised by how many moving parts there are behind the scenes at a university. I am still learning which offices oversee what, and where to send certain forms. I am always learning a new policy and meeting a new faculty member — this keeps every day exciting!
How do you relate to your audience of prospective students?
From my first interaction with students, I try to get to know them on a personal level. Learning about not only their career goals, but also their core values helps me make sure our online programs at UNK are the best fit for prospective students. I recently started taking graduate classes online, so I understand firsthand the commitment that is involved.
What's your favorite thing about UNK?
The people. The eCampus team is the most supportive and ambitious team I have had the chance to work with, it really is amazing. I am also lucky to work with some amazing faculty members who are so knowledgeable and passionate about their programs. It is really inspiring how much heart everyone has at UNK! 
View a complete list of UNK online programs, or contact us for assistance at 1.800.865.6388 or ecampus@unk.edu.