5 Common Study Mistakes in Online Courses
Posted: April 11, 2019 8:00:00 AM CDT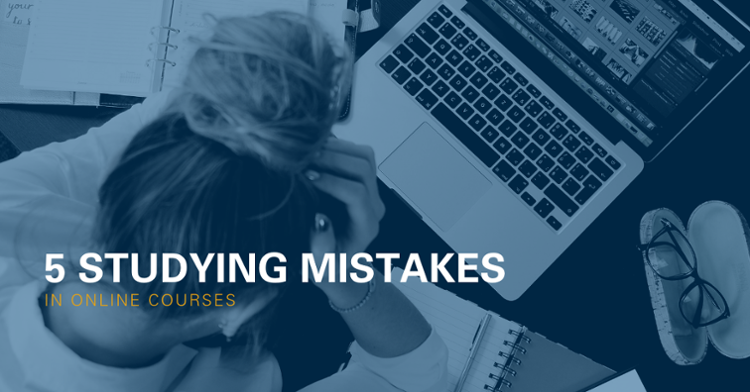 How do you study smarter in online courses when balancing school, work and family—and when diligence and planning don't seem like enough to excel? The University of Nebraska at Kearney sheds light on some of the common study mistakes in online courses. Here's what you can do as an online student to avoid the pitfalls.
Mistake #1: Holding back your questions
If you need clarification about your upcoming exam or paper, it's likely your fellow students have similar questions. After first checking your course syllabus to see if your instructor has already provided the answer you need, utilize the online discussion board to ask questions. Many courses have a designated discussion thread just for announcements or information the entire class needs to know. Be sure to read the questions from other students, too.
Mistake #2: Waiting to schedule a proctor
For online courses that require proctored online exams, it's better to schedule a proctor way in advance to ensure availability. If you're not sure how proctored exams work or whether your course has them, see our article about exam proctoring.
Mistake #3: Starting to study too late
Procrastination is never wise, but sometimes life gets in the way of studying. Look at what's required for your assignments as soon as you know about them, and think ahead about what you'll need, including sources for a paper or a better grasp of certain topics you're least familiar with. If you strategize early on, you can collect notes and resources along the way that will help you later, even if you still end up against a deadline. 
Mistake #4: Sticking with the wrong approach
The time and energy you spend studying or preparing a paper can start to take a toll, especially if you still feel lost or if your paper needs a lot of revisions after going through a peer review. Don't be afraid to change your study methods or even the topic or structure of your paper if things just aren't working. Talk with your instructor about the possibility of changing your direction.
Mistake #5: Thinking you won't succeed
It's natural to feel nervous or unprepared for an exam or assignment. In an online course, your instructor, advisor and peers can be great support systems to spur you on and help you succeed, and UNK has many other resources for online students. Be confident in your education, and reach out to UNK faculty and staff, who are here to support you.
View all of UNK's online student resources, or contact us with any questions you may have at 1.800.865.6388 or unkonline@unk.edu. We can point you in the direction of people or resources to help strengthen your studies.