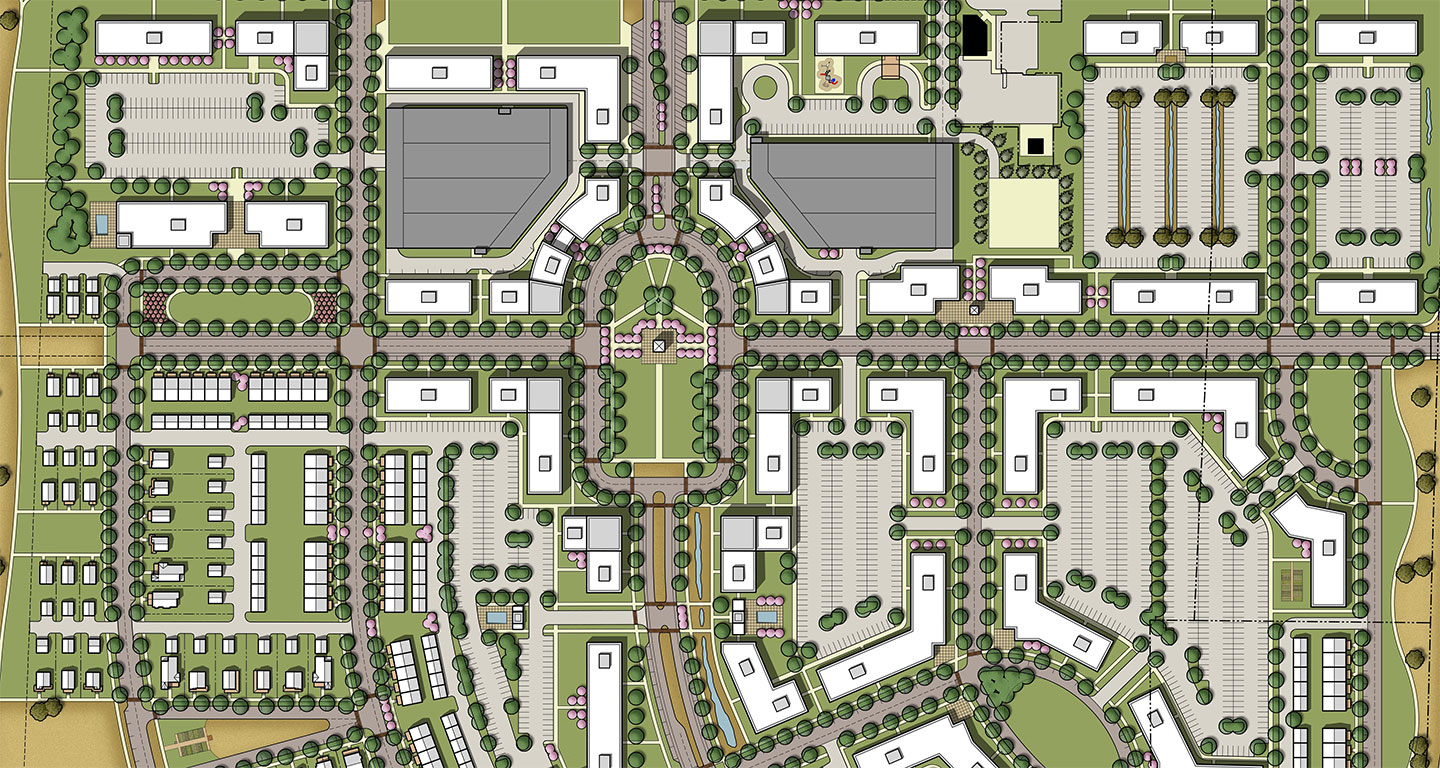 Overview
The University of Nebraska at Kearney is the higher education center for central and western Nebraska, a regional focal point for education, culture and health care and a major driver in the Kearney regional economy. Throughout its history, the University has educated citizens and played a significant role in enhancing Kearney-area communities. UNK, in collaboration with community leaders, will engage the campus and community in profoundly new ways in developing University Village as a regionally unique center of integrated university and community life.
Two interrelated strategic goals unify and shape the development. The first goal is to advance UNK's character and quality as a residential university. A new housing complex will attract a greater number of advanced students to live on campus while complementary and varied housing options will be available to faculty and staff. These options will enhance our ability to recruit students, faculty and staff to UNK.
The second goal is to enhance the surrounding community by creating a mixed-use pedestrian-oriented village featuring residential, retail, academic, service, recreation, and community engagement opportunities. It will be identifiable as an educational and cultural gathering place characterized by its connectivity, diversity, urban academic village feel and unique residential options for students, faculty and staff and community residents. University Village will create an exciting new "sense of place" within the Kearney community unique in its convergence of a striking commons, green spaces, trails and walkways, recreational venues, access to retail and municipal operations and landscape design elements that intimately blend it with UNK's main campus.

Realizing The Vision
The development of University Village has the support and approval of the Nebraska Board of Regents and senior University leadership. Following years of visioning, focused planning with broad input began four years ago. Initial market studies were conducted and planning has been ongoing and iterative. Presently, plans have crystallized to the point of implementing a phased development plan. The Kearney University Village Development Corporation has been established and will soon be populated with a mix of University and private individuals. Both UNK and the City of Kearney have made substantial investments. Funds for infrastructure have been secured and work will begin in the summer of 2015. Future development, engagement and investment are as boundless as our collective imagination and synergism.