Gloria Vavricka: A Career Inspired by Providing Opportunity to Others
Posted: February 25, 2020 11:30:00 AM CST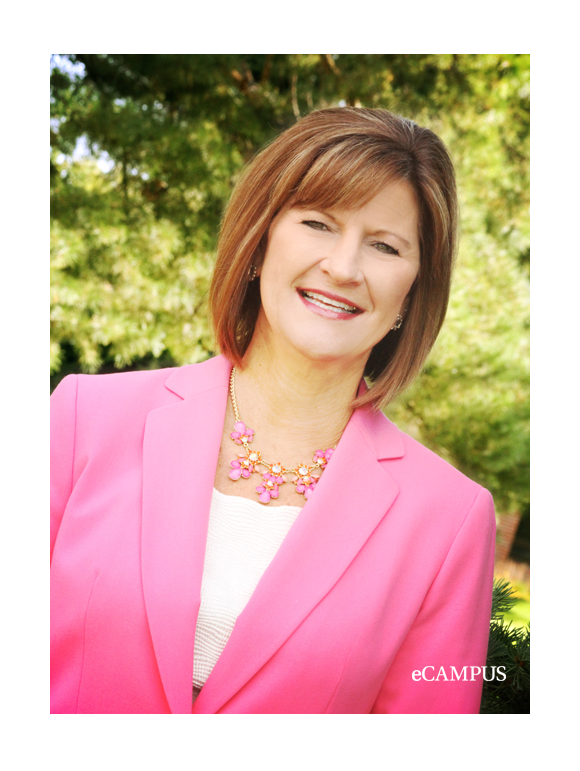 Effectively navigating a university into the world of online education is no small feat. Championing a cause of this magnitude takes courage, persistence, an encouraging spirit, and the ability to collaborate. Throughout her career at the University of Nebraska at Kearney, Director of eCampus Gloria Vavricka exhibited these skills while engaging others to join in the pursuit of making higher education more accessible to students.     
Vavricka served as a lecturer in UNK's College of Business and Technology and as an instructional coordinator before becoming the academic program director of UNK's Office of Continuing Education (now eCampus). In her current role as director, she provides leadership in all aspects of online education including program development, marketing, budget management, faculty development, technology, and the daily operations of eCampus.
As she prepares to retire after 34 years of dedicated service to UNK, Vavricka reminisces on her successful career and those who inspired and encouraged her along the way.
What inspired you to choose your career path?
I knew I was in the right career path many years ago when I first started working for Dr. Doyle Howitt in Continuing Education, and UNK was offering off-campus classes at various locations throughout Central Nebraska. Most of the students attending were non-traditional students who were working full time, had a family and did not have the time or resources to drive to UNK to take classes. Giving these non-traditional students the opportunity to earn their college degree is what inspired me to choose my career path. Because of online education, UNK has been able to reach out to many more students to achieve their college goals, and I cannot think of anything else as gratifying as the career path I chose.
Tell us about the biggest change you've seen at eCampus since you started.
Probably the biggest change at eCampus is the growth of online programs offered, as well as the number of online students in those programs. The first online course was offered in 2000 with a handful of students. Currently, there are 40 graduate degrees, 11 undergraduate degrees, 17 endorsements, 12 minors, and 5 certificates with 2,000 students in fully online programs. This growth is not only because of the increase in resources at eCampus, but also the faculty who teach the courses, the staff who provide support services and the administration who have made it part of UNK's mission. 
In what ways has eCampus grown during your time as director?
The services and resources that eCampus provides has grown tremendously in the past 20 years. At first, there was no instructional designer support and minimal marketing support. Through the years, we gradually progressed to four instructional designers to assist faculty in creating their courses, provided eLearning spaces where faculty can teach in a collaborative classroom, create professional videos, or record in our lightboard studio. The marketing team provides individualized marketing plans for every online program, and the two full-time professional advisers provide immediate service to students in our online programs. All of these resources have made a difference in the quality and growth of online education at UNK.
Describe a challenge that you faced during your time at UNK.
Probably the biggest challenge I faced was in the early years when online education began, and because it was new, faculty were skeptical of it. It was believed that the quality could not be near as good as face-to-face classes, and many faculty were hesitant to teach online. However, once they were properly trained and began teaching online, they started to see the value and quality of online programs and the impact they had on people's lives. Without online education, these students may never have earned their college degrees. Not only did faculty embrace online education but they developed lifelong relationships with many of their students. My favorite time of the year is during graduation when online students will travel to UNK from all over the U.S. to attend commencement. During this time, faculty will make it special for their students by hosting breakfasts, taking them on tours of the campus, or going out for dinner. It always makes me appreciate the faculty and all they have done to advance online education.
What is your fondest memory of working at eCampus?
I don't have one fondest memory of UNK but many fond memories and most of those would involve working with the best staff anyone could ask for. They became my "work" family and I appreciate everything they have done throughout the years. They deserve the credit for the growth and success of eCampus, and I cannot thank them enough for all they have done. The most difficult part about retiring is not being able to spend time with them every day. Oh, how I will miss them all!!
What is your favorite thing about UNK?
I would have to say that my favorite thing about UNK are the people. As I mentioned, I have been so fortunate to work with such an amazing staff all these years and will miss them very much. I have also enjoyed the many relationships I have built with faculty and other staff members on this campus who all work so hard to provide a quality education to our students. What makes UNK unique are the people, and I consider myself lucky to have been a part of this team.   
As you prepare to leave UNK, what is the most interesting thing you've found in your office?
When people walk into my office, they may find that the most interesting things in my office are the hand-carved wooden pieces made by Dr. Doyle Howitt, my previous mentor. He was an excellent wood carver. He would search for colored exotic wood throughout the world, spend countless hours using a lathe to create a piece, and then apply many layers of paste wax to finish it. The pieces are absolutely beautiful and are near and dear to me.
What are you looking forward to the most in your retirement?
After working for 50 years, the thing I look forward to most is the freedom and flexibility to do what I want and when I want to do it – no longer do I have to adhere to an 8:00-5:00 schedule from Monday through Friday. My husband and I love to travel so I look forward to taking off whenever we want and staying as long as we like. I look forward to tackling many projects around the house that have been put off. I look forward to reading a good book and relaxing. Lastly, I look forward to reconnecting with friends and family who I have not had the time to visit and keep in touch with.
Is there anything else you'd like to add?
I just want to say that I have had the best time working at UNK for these past 34 years. The timing was perfect to pursue online education, and I was lucky enough to be around during those early years to take advantage of it. I appreciate everyone on this campus who actively participated in making online education a success at UNK – not only the faculty, administration and my staff, but those offices who do so much behind the scenes and often do not get credit, such as Graduate Admissions, Undergraduate Admissions, Registrars, Financial Aid, Finance Office, Advising & Career Services, the Library, etc. It took all of us to work together to be one of the best schools in Nebraska in providing a quality online education, and I thank you from the bottom of my heart!!!


To learn more about UNK's online programs, visit ecampus.unk.edu.