Combine innovation and research to excel
Marketing professionals provide expertise to businesses and organizations in the strategic planning process, as well as provide messaging about a company and its products to its various stakeholders. The online Bachelor of Science in Business Administration Comprehensive – Marketing Emphasis will equip you with the analytic, communication, decision-making, and interpersonal skills you need to be successful in your marketing career. Enhance your professional marketability through engaging online coursework that focuses on experiential learning, engaging classroom discussion, and relevant project-based activities. Business and industry focused faculty will prepare you to excel in an ever changing and challenging environment.

UNK business programs are accredited by AACSB International, the highest standard of achievement awarded to less than 5% of business schools worldwide.
Benefits of a Bachelor's Degree
Completing a bachelor's degree qualifies you for additional job positions and careers. The median salary for those with bachelor's degrees is 39% higher than for those with a high school diploma (no college experience) and 34% higher for those with some college but no degree, according to the Bureau of Labor Statistics.
Career Opportunities
Marketing Research Manager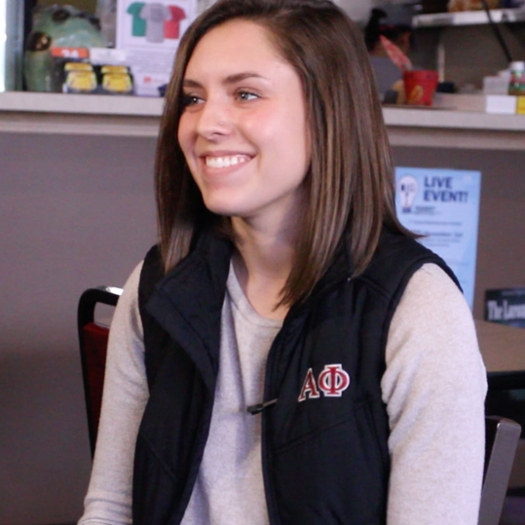 "UNK gets you into the workforce early and often, so you have a leg-up compared to people who haven't had that. It's kind of nerve racking at first, because you're working with actual clients, putting yourself out there, but when you're talking with them, and they can see everything that you have to offer, then that builds your confidence."
Bailey Hoadley
Business Administration Comprehensive/Marketing Emphasis
Curriculum
This online degree program includes a comprehensive major with 35 major core credit hours and 21 marketing emphasis credit hours. Core courses are offered each semester, with emphasis courses offered concurrently on a rotating basis.
30 General Studies credits are required in addition to the following:
Economics, Information Systems and Math Requirement
Select 3 credit hours from the following:
ECON 300 - ECON 498 (Except ECON 388)
ACCT 391 Accounting Information Systems
CYBR 302 Principles of Management Information Systems
Select 3 credit hours from the following:
MATH 120 Finite Mathematics
MATH 123 Applied Calculus I
MGT 133 Business Calculus and Linear Programming