Study Abroad Programs
Students at the University of Nebraska at Kearney can participate in an international experience in almost any country. Programs range in length from several weeks to a full year. Regardless of the field you choose to study, a program is available for you, and class credit will transfer to the UNK curriculum if you plan carefully with your academic advisor prior to departure. The Study Abroad Office is ready to help you choose a program that is right for you!
The newest addition to UNK's study abroad opportunities. Spend a Spring semester in Ireland and earn 12 hours of UNK Undergraduate credit with friends on this four month faculty-led study abroad program based in the town of Spiddal,Ireland. The purpose of the program is to offer all students the possibility to study abroad in Ireland while being instructed by a UNK Faculty member and taught in combination with professors from the University of Galway. The cost includes both transportation and lodging on multiple extended stay field trips throughout the country of Ireland.
The UNK Semester Abroad Program is the most affordable option for studying abroad as an undergraduate. The program cost is comparable to 12 credits of UNK (resident/on-campus) tuition and fees, one double-occupancy UNK dorm room,and a 15-meal plan at UNK Dining Services. This program consists of a group of UNK students led by a UNK Faculty member. Students will earn 12 UNK credit hours at Universidad Peruana de Ciencias Aplicadas (UPC) in the capital city of Lima. Field trips are included in the semester at no extra cost. This will allow you to explore several exciting destinations in your host country. It is expected that you meet the Spanish language prerequisites for this program before participating.
The Nebraska Study Abroad was created by the Nebraska Consortium (The University of Nebraska-Kearney, University of Nebraska-Lincoln, University of Nebraska-Omaha, and Wayne State College). A 3 month exchange was developed in Olomouc, Czech Republic. The purpose of the program was to offer all students the possibility to study abroad in a program led by a Nebraska professor and taught by professors from the hosting institution. UNK credits can be completed through this program, and the cost includes some field trips throughout surrounding countries in Europe.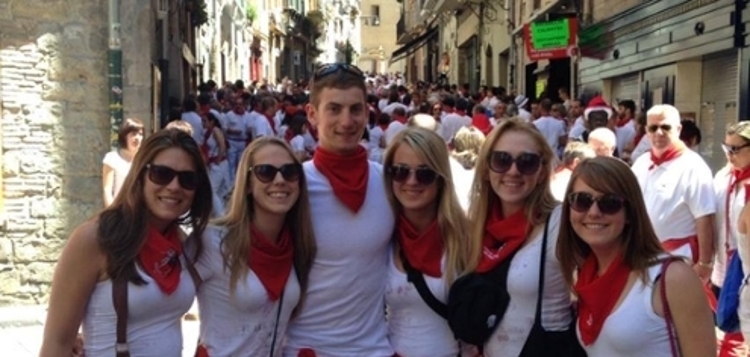 The UNK Summer Abroad Program is a six-week program to Valladolid, Spain. Students will attend the Universitas Castellae (UC). The cost of the program includes home-stay and six UNK credit hours selected from advanced Spanish options. Field trips to Salmanca and Segovia are integrated into the program at no extra cost. This program is similar to the UNK Semester Abroad Programs, but designed for the summer.
List of individual study abroad programs available to undergraduates at UNK. The duration of these programs vary, but typically students participate in a one semester or one year program. In most cases, programs can be done by oneself or with friends.
List of summer programs available to undergraduates at UNK. The duration of these exchanges vary from 10 days to 2 months and can be done by oneself or with friends (in most cases).
Follow this link to learn about faculty-led programs and programs offered through third-party provider.