Housing Information
Approximately 2,000 students live on-campus at UNK in: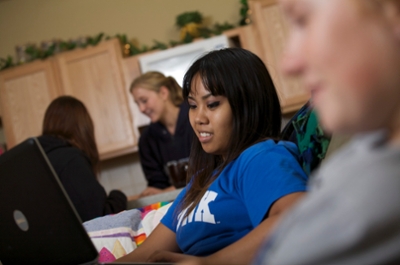 5 Traditional residence halls
2 Greek complexes
2 Suite-style complexes
The Office of Residence Life coordinates all campus housing and is dedicated to maintaining an environment conducive to educational and personal development. Each residence hall is supervised by a live-in Graduate Hall Director or Complex Director and is staffed by Resident Assistants who live on each floor.
Please note that all freshmen are required to live on campus during their first year at the University. Exceptions are made only for students who are (1) living with his/her parents or legal guardians, (2) 19 years old or older on the first day of fall semester classes, or (3) married, a single parent, or have a documented health condition which makes it impracticable to meet the freshman housing requirement.
Students living on campus are required to participate in the food service program provided with their Residential contract. Campus food service areas are located in the Nebraskan Student Union, both of the Greek housing complexes, the Fine Arts Building and West Center Building.
Housing Contract
Students can apply for housing online via a large yellow button labeled "Campus Housing" on the MyBLUE homepage. The contract is for the full academic year. A $50 non-refundable processing fee is required for the contract to be processed. A contract cancellation fee may be assessed for canceling your room and board contract. For those students graduating, withdrawing from school, getting married, or performing student teaching/academic internships, there is no contract cancellation fee. Read your housing contract carefully. If you do not understand it, contact the Office of Residential Life for assistance.
For more information on campus housing, click here.
For Housing Application Instructions, click here.
Linens
Each student must bring/have his/her own bed sheets, blankets, pillows, towels, and washcloths. UNK has made it very easy for you to order these items from your home and have them shipped directly to UNK, so you will not need to bring these items with you in your luggage. They will be waiting for you as you arrive on campus.
Click here for ordering instructions.
Click here to place order.