Resource Recap for Starting a New Semester
Posted: January 8, 2019 11:55:00 AM CST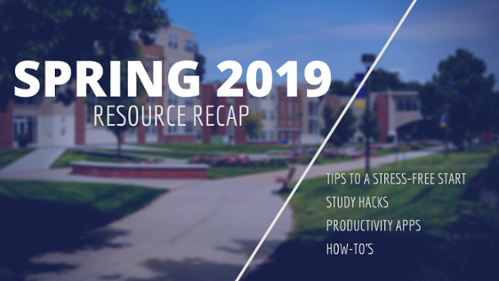 Getting back into the mindset of studying after the holiday break—or heading back to school as a non-traditional student—can be a bit overwhelming. We looked back at the study tips and resources on our blog at the University of Nebraska at Kearney eCampus to help you ease into the new year and semester. 
Getting Started
Many students are nervous about starting a new semester of courses. Staying calm is usually easier said than done, but there are some tips that can help. Although our blog article on how to have a stress-free start to the semester is from last fall, the ideas remain relevant for upcoming spring courses.
Communication
Instructors who teach your courses, both on campus and online, receive many emails from students. The influx is often at the start of the semester or earlier, when students have questions about the course starting up. Follow these best practices for sending professional emails to set a good first impression with your new courses and professors.
Studying and Productivity
Trying to find an effective study environment and routine can be hit or miss, especially with so many tips and resources out there. This short list of study hacks for college as well as the apps for productivity that we've identified may be worth a try. See what works best for you, and don't be afraid to adjust your methods and tools based on what you need.  
Catching Up
Whether it's a planned vacation or unexpected circumstances, the reality of taking college courses is that you may sometimes fall behind schedule—or at least feel as if you're behind. For the spring semester, use these tips for catching up after Spring Break, many of which can be addressed before the actual break. Don't forget to talk with your professors as early as possible if you know there is a time you will be unavailable.

Find these archived articles and more on the UNK eCampus blog. Welcome back to UNK, and have a wonderful spring semester!