2008 No Limits Conference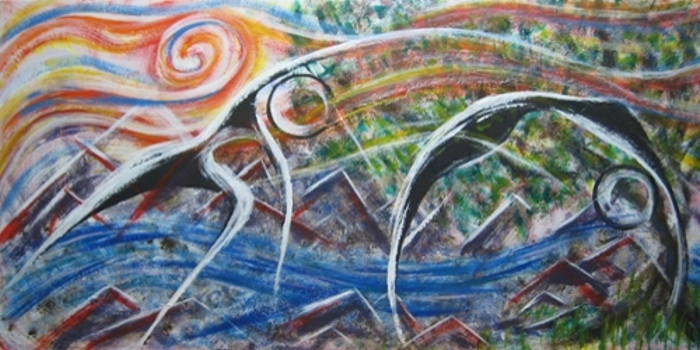 Women's Studies Conference
University of Nebraska, Kearney
February 29-March 1, 2008
Nebraskan Student Union – Ponderosa Rooms
No Limits is an annual Women's Studies conference for undergraduate and graduate student research. The theme for No Limits 2008, Transnational Feminism, focuses on the complexities of feminism and gender issues across national boundaries. Though research on subjects relating to Transnational Feminism is encouraged, projects and papers focusing on any issue are welcome. Projects may include (but are not limited to): papers based on original research, creative writing and poetry, visual art, music studies, autobiographical work (i.e. a journal of an experience in a different culture).
Free and Open to the Public!
Keynote Address: Dr. InderpalGrewal
"Transnational Feminist Studies: Problems and Possibilities"
Friday February 29 11-12 noon Ponderosa Room NSU
Dr. Grewal is a Professor of Women's Studies and the Director of the Program in Culture and Theory at the University of California, Irvine. She has published widely on topics such as transnational and post colonial feminist theory, feminism and human rights, NGOs and theories of civil society and citizenship. She is the author of Transnational America: Feminisms, Diasporas, Neoliberalisms.
Musical Performance: Lauren Pelon
"Women in Music: Someone Will Remember Us"
Friday Evening February 29 7:30 pm Fine Arts Recital Hall
This solo perfomance will trace the story of women in music with selections written by and for women, crossing the boundaries of time, distance and culture. Pelon will play ancient and modern instruments, some of which were traditionally played by women, some forbidden to them. She has performed in concerts throughout the US, Canada, Australia, New Zealand, Ireland, England, Kazakhstan, and China.
Faculty Roundtable: Transnational Feminist Methodologies
Saturday, March 1, 2008 Ponderosa Room NSU
10:45-12:15 pm
Dr. Nyla A. Khan (UNK- English Department), author of The Fiction of Nationality in an Era of Transnationalism (Routledge, 2005). She is currently researching the lives of women in Kashmir.
Dr. Donna Akers (UNL- Ethnic Studies & History Department), author of Living in the Land of Death: The Choctaw People, 1830-1860 (Michigan State University Press, 2004). She is currently researching the lives of five Native-American women and their instrumental roles in the preservation of their culture. She is also starting a new project on human trafficking and indigenous women in India and Sri Lanka.
Shaista Wahab (UNO- Center for Afghanistan Studies), research participant in the documentary film, "Afghanistan Unveiled." She taught oral history to Afghan women journalists in Kabul in 2002 and 2003, and conducted interviews and trained students in gathering factual information through interview. She initiated and supervised the Afghan Oral History Project and recorded personal experiences of individuals that were affected by the Soviet invasion of Afghanistan. More than two dozen interviews were collected and added to the Afghanistan Collection, at UNO Library.
Program & Student Sessions (.pdf)
Conference Contact:
Linda Van Ingen, Director, Women's Studies Program
103-C Copeland Hall, University of Nebraska, Kearney, Kearney, NE 68849
(308) 865-8772 vaningenL1@unk.edu http://www.unk.edu/acad/women
Co-sponsored by the Women's and Gender Studies Programs at UNK, UNL, UNOand a UNK Faculty Senate Artists & Lecturers Grant, UNK Office of Sponsored Programs, UNK Center for Teaching Excellence, UNK Ethnic Studies Program, and UNK Women's Center.