UNK Planetarium
The Department of Physics & Physical Science operates these facilities. The Planetarium is Nebraska's newest star theater. The Zeiss star projector provides students and visitors with an indoor Universe where the sky is never cloudy.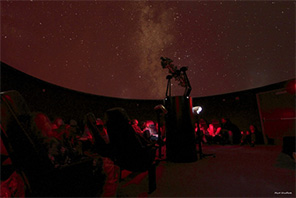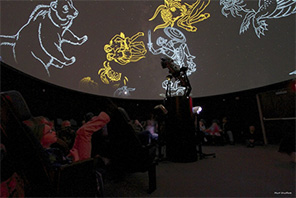 Inner Planetarium Photographs taken by Mark Urwiller
The Planetarium features a state-of-the-art projector, the Zeiss Skymaster ZKP4.
Each of the seven thousand stars is individually projected on the dome with fiber optic technology.
The space and time functions of the projector are completely computer controlled.
We can navigate to any place in the world and any date in the past or future with the push of a button.
The Planetarium also features movie theater surround sound system.
As an added treat, the red/blue/green LED lighting system will allow an infinite variety of lighting moods to enhance the star shows.
Lastly, a behind-the-scenes computerized control system will integrate the various technologies into a cohesive star theater.
Our Location
Department of Physics & Physical Science
University of Nebraska at Kearney
Bruner Hall of Science
2401 11th Ave
Kearney, NE 68849