Honors Student Activities Board
Mission 
The Honors Student Activities Board (HSAB) works together with the Honors Director and Associate Director to ensure that the needs of Honors students are being met. HSAB also plans and coordinates many of the social activities for the Honors Program as a whole. All students in the Program are invited to a variety of social activities that take place various times throughout the semester. HSAB acts as a liaison between Honors Students and the administrators to ensure a desirable Honors community for all members.
Currently, the HSAB meets every other Thursday throughout each month in the Men's Hall Main Lobby. Any Honors student in good standing with the Program (holding at least a 3.2 cumulative grade point average) may apply for membership on the HSAB. A brief application form is provided below in Word format. The application process and interviews will be held at the beginning of each Fall semester. (Freshmen are encouraged to apply).
Honors Student Activities Board Application 
HSAB encourages Honors students to provide ideas or suggestions to the board to enhance the Honors Community. Please contact the Honors Director or Associate Director to obtain the contact information of the current HSAB President.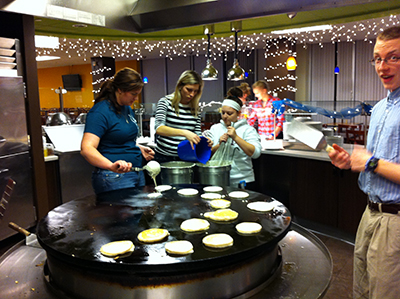 HSAB members cook pancakes for the Finals Honors Student Pancake Feed tradition.
2nd Below: Honors Students sing Christmas Carols throughout nursing homes to bring holiday cheer.