Student Club
Our club is a student organization that promotes professionalism and career development.
We sponsor field trips each semester to such places as:
The Nebraska Penitentiary
Lincoln Correctional Center
Leavenworth Kansas Federal Prison
The military prison at Fort Leavenworth
The Norton, Kansas prison
Nebraska Center for Women
Ride-a-longs with the Omaha Police Department
Ride-a-longs withthe Kearney Police Department
Police Training Academy in Grand Island
The State Patrol Headquarters
The State Patrol Forensics Laboratory
Boys Town in Omaha
TheDrug Rehabilitation Treatment Center
Monthly meetings are held on campus with guest speakers from the various criminal justice disciplines. Past speakers have included Probation and Parole Officers, Juvenile Counselors, Prosecution and Defense Attorneys, Patrol Officers and Chiefs of Police, Wardens and Correctional Officers, Sheriffs and Deputies, State Patrol Officers and Undercover Narcotic Agents, FBI and DEA Agents, and even classes on martial arts and self defense.

Any student with an interest in the field of Criminal Justice is eligible to belong to the club. Dues are currently $10 for the school year (two semesters). We are one of the largest and most active clubs on campus with over 50 members. Club officers are elected yearly and plan meetings and events.   Socials are held at the beginning and end of each semester. We hope you can join us. Notices of the first meeting will be presented in the various Criminal Justice Classes or feel free to contact the Club Advisor, Dr. Kyung Yon Jhi, at jhiky@unk.edu.  We are also on Facebook, just search for "Criminal Justice Club – University of Nebraska at Kearney."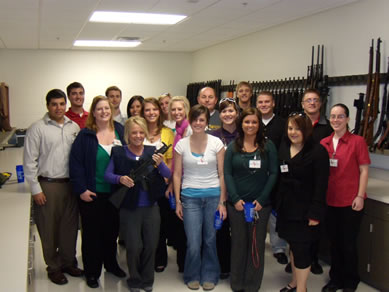 Criminal Justice Student Club visiting the Omaha FBI Field Office.