Larry Hall
Executive in Residence, April 22 & 23, 2009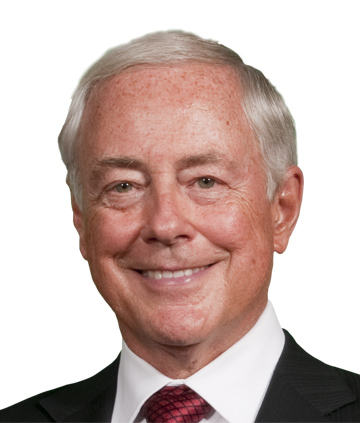 Larry D. Hall was born in Hastings, Nebraska before moving to Kearney where he attended Kearney State College. After graduating in 1964 with a degree in business, Hall attended the University of Nebraska College of Law where he received a juris doctor degree with honors in 1967. Prior to joining KN Energy, Inc. 1971, Hall was a partner in the law firm of Wright, Simmons, Hancock and Hall.
Larry D. Hall joined K N Energy, Inc. in 1971 as an attorney and assistant treasurer and served in the capacity of vice president; executive vice president, president and chief operating officer, and chief executive officer and chairman. During his tenure as president and CEO, the Company grew from $300 million in assets to over $9 billion. The Company served two of the largest natural gas markets in the U.S. and was the second largest producer of natural gas liquids in the U.S.
Hall institutionalized new vision, values and leadership principles in the Company and was recognized by Fortune magazine for his leadership of one of the four Most Admired Fortune 500 Companies in its industry.
After retiring from the Company, Mr. Hall started CPS Investments, LLC in Denver, Colorado with two former executives of the Company. In 2001, CPS purchased four city blocks adjacent to the 380 acre Denver City Park including two hospital buildings and a parking garage. The hospital complex was demolished, and over 1 million square feet of condominium, townhome and apartment space has been constructed. The $150 million project offers spectacular views of the front range and the park.
Today, Hall is a partner of a real estate development group that is seeking new opportunities in commercial and residential real estate development in the United States and Mexico.
Hall has served as chairman of the Interstate Natural Gas Association of America and the Natural Gas Supply Association of America. He has testified on behalf of the energy industry before the U.S. House and Senate energy committees and provided counsel to the Clinton and Bush administrations and to the governors of Colorado. Hall has also served on the board of directors of the Colorado Alliance of Business; the Greater Denver Chamber of Commerce Leadership Roundtable; Colorado Association of Commerce and Industry; St. Mary's Hospital Foundation; Hospice and Pallative Care of Western Colorado; and Small Business Development Center.
Hall was a member of the Kearney State Foundation Board of Directors. He is currently a Trustee of the University of Nebraska Foundation.