Job Site Reviews – site that reviews and ranks job search websites 
InternNE.com – site connecting college students and employers across Nebraska 
indeed.com – finds job listings from other major job sites, company sites and associations 
 aftercollege.com – search for entry level jobs and internships 
beyond.com – niche site, find a career in a certain field or in a certain part of the country 
 careerbuilder.com – one of the biggest online job sites  
 careerbum.com – job site focused on Central Nebraska  
careerlink.com – a leader in career development resources  
careersinfood.com – the #1 employment site for the food and beverage manufacturing industry 
 collegerecruiter.com – a leading job board for internships and entry level positions 
jobcentral.com – ideal if you're looking for corporate job listings 
  jobinformationcenter.com - find job applications for every major U.S. company 
jobserve.com – claims to be the world's first Internet recruitment service 
kearneyareajobs.com – advertises openings in the Kearney area 
linkedin.com/studentjobs - entry level jobs that are posted on LinkedIn 
linkup.com – finds jobs from a database of 22,000 company websites 
onedayonejob.com – every day the site looks at one employer and their entry level jobs 
ontargetjobs.com – niche site that owns several smaller niche sites 
quintcareers.com/indres – list of career resources by industry 
simplyhired.com – finds job listings from major sites and company sites, free resume listing 
simplyhired.com/newgrads - job listings focused on new graduates 
 towniejobs.com - search for jobs based on key words and location 
trovix.com – enter your qualifications and the site searches for compatible jobs 
tweetmyjobs.com – access to jobs that match your profile 
usajobs.gov – the official job site for the U.S. government 
warriorgateway.org – non-profit whose mission is to connect individuals in the military, veterans, and their families with federal, state, and local government programs as well as non-profit organizations in their local communities
glassdoor.com – an inside look at jobs and companies – posted anonymously by employees
Click here for a detailed packet of information that includes sample résumés, a list of action verbs, and information about cover letters and references.
 
Résumés for America is an online résumé builder that helps you to create an effective and professional resume by providing expert tips, writing examples, and helpful suggestions. The software also comes with a cover letter builder, thank you letter builder, and more.
Students who are registering for the first time or returning students who are logging in, visit the free resume builder now and sign in with your UNK email address.
Upon completing your résumé, email it to careerserv@unk.edu or drop it off at our office so we can provide feedback.  
Résumés

 
A résumé is your marketing tool, and advertisement of your qualifications and abilities. It is a concise document – a snapshot – of your relevant education, experience, and skills.  It is often the first item that a potential employer sees, and is used to screen applicants competing for a position. Obviously, you want your résumé to screen you in, leading you to the next step in the job search process. With that in mind, construct your résumé so it supports your career objective, i.e., it presents evidence showing that you have the skills and knowledge necessary to perform the job. Once you have a clear view of your target job, or at least your target industry, you can develop a résumé that highlights the appropriate skills and experiences. Visit Academic and Career Services if you need help defining your career objective. 
Types of Résumés 
 Chronological

 - 

an account of whom you've worked for and what you've accomplished in each position, listed in reverse chronological order. It is the style 

most commonly used by new college graduates and by individuals changing jobs within a given career field.

 
 Functional

 - 

places the emphasis on what you've accomplished and de-emphasizes where you did it. This allows the candidate to organize experiences, gathered from a variety of arenas, according to specific functions or skills.

 
 Combination 

- 

merge the elements of each of the other styles. They will include an overview or summary of qualifications at the beginning, in which they stress their skills and characteristics appropriate for the position, but they revert to the reverse chronological style for the remainder of the document.

    
Additional Online Resource: Purdue Online Writing Lab: Résumé Workshop  
COVER LETTERS
Before you write the cover letter, ask yourself these four questions:   
Who, specifically, should receive the cover letter? Target your recipients carefully.  

What is the best way to locate the right contacts? Research the industry/field/company.  

How can I motivate the reader to interview me? Address the employer's needs and your strengths.  

What points do I want to emphasize? Develop self-awareness and express confidence and enthusiasm. 
The answers to these questions will focus your efforts and strengthen your case. You must next address the tone and presentation of the letter: 
Use a positive and outgoing writing style. 

 

Project energy and confidence. 

 

Avoid negative and apologetic statements. 

 

Adopt a business-like, but cordial, tone. 

 
In general, picture the likely reader and adjust the style and tone of your letter accordingly. Become familiar with the prevalent style in your field. If the recipient is apt to be conservative, write a conservative cover letter. If your reader appreciates creativity, use a creative approach. Be cautious in making assumptions though. 
The words you use are important in conveying both message and tone. Accomplishments are best expressed through action verbs (communicated, clarified, facilitated). Select self-descriptive words to express personal characteristics (enthusiastic, creative, dependable). Use words sparingly, and try to limit the length of the letter to one page. 
Academic & Career Services is excited to present 
The Big Interview
, an interactive site to help you ace your next job interview.  The site includes 7 core learning modules, tips on how to answer difficult questions, and as long as you have Internet access and a webcam you're able to record practice interviews!  It's easy to sign up, easy to use...and it's free! 
Interviewing is perhaps the most important aspect of your job search. On this page we've outlined a 5-step process to successful interviewing and at the bottom of the page, take a look at links to handouts with more detailed information about specific aspects of interviewing. 
5 Steps to a Successful Job Interview 
PREPARE FOR THE INTERVIEW

 

Research the company and be able to connect your skills and goals to their needs 

 

          

(visit "Researching Occupations" in the "Exploring Majors & Careers" section of our website)

 
Review frequently asked interview questions

 

Develop questions for the interviewer

 

Know what to wear

 

Have a typed list of 3 – 5 professional references

 
MAKE A POSITIVE FIRST IMPRESSION

 

Strong eye contact and hand shake

 

Be prepared to engage in small talk to break the ice

 

Stick with positives, complaining about anything can be the "kiss of death" in an interview

 

Be aware of your nonverbal communication; facial expressions, posture, etc.

 

 

DEMONSTRATE YOUR POTENTIAL – What Employers are Looking For

 

Can you do the job? 

– Employers want to see how your skills and experiences have prepared you for the position you are interviewing for. Use the STAR technique (see "Interview Ready" handout below) to back up your skills with experiences

 

Will you do the job?

 – Employers want to see that you are motivated to work for them and contribute to their well-being. Do your homework; research the company and its mission, and have clear career goals that fit in with the company

 

Will you fit in?

 – Employers want to know if you will accept the organization's way of doing things and if you'll get along with your co-workers. They might ask about your ideal work environment or how you deal with conflict.

 

 

CLOSING WITH FINESSE

 

Ask the interviewer appropriate questions, show you have researched the organization

 

Re-state why you feel you are the best candidate and your interest in the position

 

Offer your references if they haven't asked for them

 

Thank the interviewer for his/her time – maintain eye contact and give a firm handshake

 

Ask who is going to follow up with you and the timeline for their decision making process

 

 

IMPORTANT POST-INTERVIEW TASKS

 

Keep a record of the interview

 – detailed information about who you met with and your insights so that you can follow-up with them

 

Send a thank-you letter

 – confirm your interest in the job, show appreciation, and highlight your skills – if interviewed by more than 1 person, make sure to personalize each note

 

Anticipate a second interview

 – plan ahead to demonstrate how you will fit within the organization

 

Prepare to respond to an offer

 – carefully review the job, company, and geographic location

 

Call if you have not heard anything and the deadline has passed

 


 
Important Handouts 
Interview Ready – Comprehensive look at all aspects of job interviewing, including the STAR technique 
 Interviewing to Win – PowerPoint outlining what to do before, during and after the interview 
 Preparing for 2nd or 3rd Interviews  
Networking is an important skill in a tight job market. Many people who take a new position did not respond to an opening posted on the Internet and much of all hiring occurs through the hidden job market. The hidden job market includes all the jobs that are filled before they are posted anywhere. Networking helps you find those hidden jobs.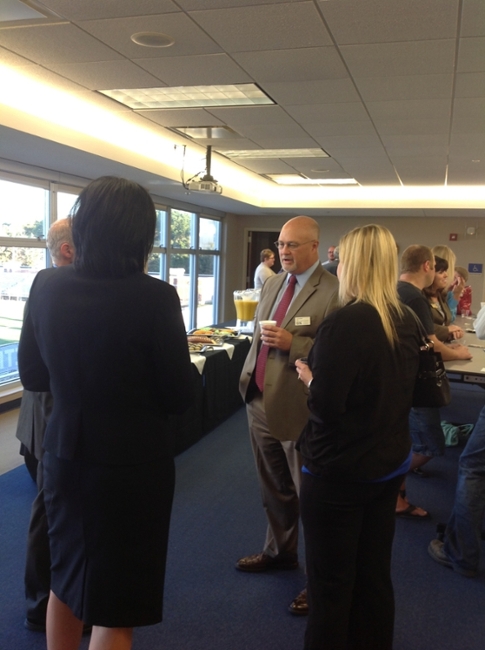 Identify your networks: 
Family 
Friends and classmates 
Academic circle (professors)
Organizations 
Employers 
If you find that your list is short, join an organization, volunteer, and get involved. 
Make contact! 
Prepare you elevator speech and be ready to use it 
Connect on LinkedIn.  
Stay in Touch 
Foster relationships, occasionally e-mail, etc.
CAREER FAIRS 
Whether you're looking for full-time employment, an internship, or would simply like to network with employers, Career Fairs are a vital part of any student's job search so it's important to prepare. Click here for a detailed description of what to do before, during and after a career fair, in order to have a successful experience. 
Internships
Learning in the real world.  
Theoretical knowledge is only half of your education at UNK. The other half is applying what you learn to the real world and learning from experience. Internships are among the many powerful ways in which a UNK education extends classroom learning into real-world experiences in the workplace. In fact, most UNK students list at least one internship experience on their résumé by the time they graduate.

Where do UNK students find internships?
Business students intern at some of the best companies in the state and nation; education majors intern at schools across Nebraska; social work students intern at area hospitals and counseling centers; criminal justice students intern with law enforcement, corrections agencies, and law firms; advertising majors intern at leading agencies in Omaha, Chicago, and other places small and large… the list is nearly endless.
How do they find these internships?
Many programs at UNK list internships as a requirement and have the connections, internship coordinators and other resources to help you find an internship. The Office of Career Services also provides experienced counselors who may be able to help you plan your internship. While the summer of your junior year is the best time to gain work experience as an intern, we encourage you to visit the Office of Career Services as early as your freshman year so that you get a head start on internship and career planning. 
For more information, schedule a campus visit.
Internships link the classroom to the work place, allowing the student to test his/her abilities in a selected field.  The College of Business & Technology has developed many partnerships with companies that provide internship experiences. 
 Business, Family Studies & Interior Design Internships  
Janice Woods, Director                                                                       
Accounting
Agribusiness
Economics                               
Family Studies
Interior Design
Finance
Management
Marketing
Management & Information Systems
Supply Chain Management                                               
Brenda Jochum, Director