BRIN (Biomedical Research in Nebraska)
What is INBRE?
INBRE (IDeA Network of Biomedical Research Excellence) is a project supported by the National Institute of Health (IDeA is from Institutional Development Award). The primary focus of INBRE is to enhance the competitiveness of biomedical research in Nebraska by supporting the training of students and the research efforts of faculty.
Who is involved?
The grant is housed at the University of Nebraska Medical Center. There are three Ph.D. training campuses: University of Nebraska-Lincoln, University of Nebraska Medical Center, and Creighton University Medical Center.
Biology is the only department at UNK that provides an opportunity to be in this scholar program.
Other Undergraduate institutions are: University of Nebraska at Omaha (Biology), Wayne State College, Doane College, Creighton University, Chadron State College, University of Nebraska-Lincoln, College of Saint Mary, and Nebraska Wesleyan University.
The community colleges include Little Priest Tribal College and Western Nebraska Community College.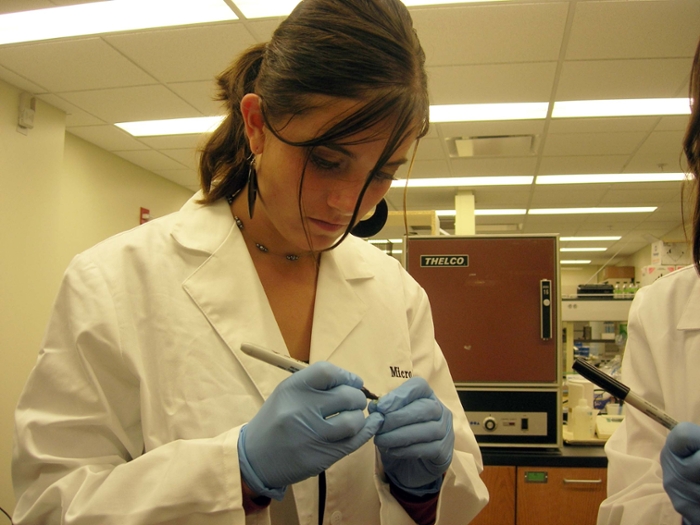 How does INBRE at UNK work?
Students who have completed their sophomore year of college (and completed specific courses) apply for access into the program. If accepted the two year scholars program provides opportunities for mentored full time research during the first summer in the program. This first summer of research is executed on one of the Ph.D. granting training campuses. The scholars then commit to part time research on their home campus during the following two academic years and full time research on their home campus during their second summer in the program.
INBRE benefits
Financial support is provided for these undergraduates throughout their tenure as INBRE Scholars. Students are also given opportunities to attend national meetings and conferences. With the end result of the scholars program being to recruit students to graduate programs at Ph.D. granting institutions. Once a scholar has been admitted to a Ph.D. program, the INBRE project will provide support for the first year of graduate studies.
INBRE supported faculty at UNK:
Dawn Simon: simondm@unk.edu
Kimberly Carlson: carlsonka1@unk.edu
Julie Shaffer: shafferjj@unk.edu
For more information about the program, feel free to contact Dr. Kimberly Carlson.
Application forms and contract information (for the first summer and time at UNK):
UNK INBRE (BRIN) scholars
2013
2012
2011
Madelyn Warren
Shanice Harris
Loany Fajardo
Tia Hadley
Derek Kleier
Ben White
Jaicee Post
Michele Stretch
 
 
 
2010
2009
2008
Andrew Prososki
Travis Kirchner
Jeff Shaw
Brandon Mizner
Marcelle Strydom
Becky Fusby
Andrew Block
Katie Langenfeld
 
 
 
2007
2006
2005
Christine Gilling
Austin Nuxoll
Robert Daro
Kylee Gardner
Ashley Stillwell
Joseph Chiweshe
Mary Connealy
Sarah Marshall
Anjeza Pashaj
 
 
 
2004
2003
2002
Lindsay Vivian
Michael Kling
Cory Ciccone
Kay Crabtree
Cole Spressor
Karynn Kucera
Melissa Fladseth
Lisa Walters
Raymond Baillou

Resulting scholar publications in refereed journals (* designates scholar):
Gilling, Christine E.* and Carlson, Kimberly A. The effect of OTK18 upregulation in U937 cells on neuronal survival. In Vitro Cell Dev Biol Anim 45(5-6): 243-51, 2009.
Carlson, Darby J., Pashaj, Anjeza*, Gardner, Kylee*, and Carlson, Kimberly A. Advances in age old questions. Fly 3(2): 149-151, 2008.
Larson, Stephanie, Gilling, Christine E.*, and Carlson, Kimberly A. A proposed mechanism for OTK18 regulation of TNF-α in response to neurotoxic insult. J Biol, Biol Syst, Bioinform 2(1), 2008.
Spresser, Cole R.*, Marshall, Sarah E.*, Carlson, Kimberly A. OTK18: A transcriptional suppressor and putative anti-retroviral molecule with a potential role in regulation of innate immunity. J Genet 87: 109-117, 2008.
Steele, Janet E., Kucera, Karynn E.*, Ciccone, Cory A.*, Connealy, Mary E.* Exercise and diabetes influence antioxidant activity and gene expression in female rats. Trans NE Acad Sci 31: 51-60, 2008.
Vogel, J., Gu, Y., Twigg, P., Lazo, G., Laudencia-Chingcuanco, D., Hayden, D. M., Donze, T. J., Vivian, L. A.*, Stamova B., Coleman-Der D. EST sequencing and phylogenetic analysis of the model grass Brachypodium distachyon. Theor. Appl. Genet. 113: 186-195, 2006.
Spresser, Cole R.*, Carlson, Kimberly A. Utilization of Drosophila melanogaster for studies of HIV-1 infection. J Neurosci Res 80: 451-5, 2005.